Journal h-index : 2

Journal cite score : 0.33
Journal impact factor : 0.50
Average acceptance to publication time (5-7 days)
Average article processing time (30-45 days) Less than 5 volumes 30 days
8 - 9 volumes 40 days
10 and more volumes 45 days
About The Journal Open Access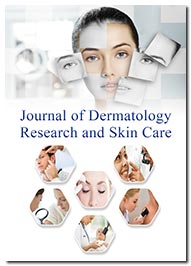 Journal of Dermatology Research and Skin Care is a peer reviewed open access journal that dwells at length on the clinical and medical aspects of skincare by showcasing the latest research advancements in this field.
Aims and Scope The journal aims to publish the most advanced and original research as research articles, review articles, case reports, short communications, commentaries, images, video articles, etc. in all areas of the dermatology and skincare and provides free online access to it globally.
The journal tries to meet the research needs of aspiring researchers and scientists throughout the world on a wide range of topics including, Cosmetic dermatology, Dermatopathology, Immunodermatology, Pediatric dermatology, Teledermatology, Dermatoepidemiology, Stoma, Wound healing, Radiation, Acne, pruritus, cosmetic resurfacing, photodynamic therapy, Nutricosmetics, Skin disorders, Allergic reaction, Body louse, Scabies, Environmental and allergic.
All the Submitted articles are subjected to thorough peer review prior to their publication in order to maintain the quality and significance of the journal. The published articles are made freely and permanently accessible online immediately upon publication, thus improving the citations for the authors in attaining impressive impact factor.
Journal of Dermatology Research and Skin Care welcomes submissions via online submission system www.scholarscentral.org/submission/dermatology-research-skin-care.html or via email to the Editorial Office at [email protected]
Individuals interested in farming part of the Editorial and Review Board can contact the blow mentioned mail address [email protected]
h-index
Articles published in Journal of Dermatology Research and Skin Care have been cited by esteemed scholars and scientists all around the world. Journal of Dermatology Research and Skin Care has got h-index 2 , which means every article in Journal of Dermatology Research and Skin Care has got 2 average citations.
Just Published Articles View More
Relevant Topics