Journal H-index : 6

Journal cite score : 1.13
Journal impact factor : 1.88
Average acceptance to publication time (5-7 days)
Average article processing time (30-45 days) Less than 5 volumes 30 days
8 - 9 volumes 40 days
10 and more volumes 45 days
About The Journal ISSN: 2591-796X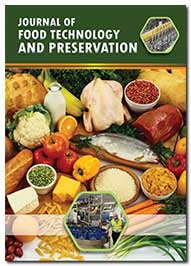 Journal of Food Technology and Preservation is an open access peer-reviewed scientific publication mainly focusing on recent developments and innovative trends in the fields of Food Technology and Food Preservation. The main emphasis of this Journal is to publish quality research in all relevant disciplines and to motivate upcoming researchers and students to generate innovative scientific ideas and concepts for publication.
Food technology is the branch of applied food science that deals with food production, preservation, processing, packaging, labeling, quality management, distribution, and the use of safe foods etc., and food preservation includes preventing the growth of bacteria, fungi or other pathogenic micro-organisms as well as retarding the oxidation of fats that cause rancidity thus promoting shelf life and reduced risk of hazard by consuming the food.
The journal publishes a wide range of scientific articles related to Food engineering & processing, Food chemistry & biochemistry, Food packaging, Food physical chemistry, Food microbiology, Food quality control, Food additives, Food storage, Food spoilage, Food traceability, Food grading, Food biotechnology, Food safety management encompassing chemical, physical, quality, and engineering properties of food materials. The Journal provides a balance between fundamental chemistry and engineering principles and food preservation technologies. In addition, the journal features important discussions of current economic and regulatory policies and their effects on the safety and quality of a wide array of foods.
Submit your manuscript online at www.scholarscentral.org/submissions/food-technology-preservation.html or e-mail to [email protected]
Subject exponents interested in becoming members of the Editorial/Review board can drop-in an e-mail with updated CV, brief biography and research interests for evaluation.
H-index
Articles published in Journal of Food Technology and Preservation have been cited by esteemed scholars and scientists all around the world. Journal of Food Technology and Preservation has got H-index 6 , which means every article in Journal of Food Technology and Preservation has got 6 average citations.
Just Published Articles View More
Relevant Topics