About The Journal Open Access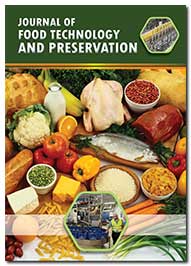 Food Technology is a branch of food science which deals with the process of production of food. Preservation is to prevent the growth of bacteria, fungi or other micro-organisms.
Journal of Food Technology and Preservation (AAFTP), a newly launched journal. The journal publishes a wide range of scientific articles related to, Food packaging, Food physical chemistry, Food chemistry, Food microbiology, Food packaging, Quality control, Food storage, Food grading etc., of both wild and domesticated animals.
Aims and Scope
Our main aim is to publish the most advanced research and discoveries with current developments in the form of original research articles, review articles, case reports, short communications, commentaries, images, video articles, etc. in all areas of the Food Technology and Preservation. By making our content freely available on internet, we try to meet the research needs of aspiring researchers and scientists throughout the world give them a scope for further advancements in research.
The Journal is using Editorial Manager System for online manuscript submission, review and tracking. Editorial board members and experts in specialized subjects/aspects review the manuscripts which will enhance the quality of the research content. At least two independent reviewer's approval followed by the editor's acceptance is required for the acceptance of any citable manuscript.
The journal scope encompasses the knowledge in food technology and preservation Drying, Cooling, Freezing, Boiling, Heating, Salting, Sugaring, Pickling, Lye, Canning, Jellying,Jugging, Burial, Curing, Fermentation, Industrial/modern techniques, Pasteurization, Vacuum packing, Artificial food additives, etc.,
You may submit manuscripts online at http://www.editorialmanager.com/alliedjournals/ or mail to [email protected]
Individuals interested in becoming members of the Editorial Review Board should contact by below email [email protected]
Just Published Articles
Research Article January 03, 2018
J Food Technol Pres: 1(3): 25-38
Sachithananthan V
Research Article January 03, 2018
J Food Technol Pres: 1(3): 8-14
Aremo JO, Omojola AB
Research Article January 03, 2018
J Food Technol Pres: 1(3): 1-6
Cortese CM, Portela G, Sanchez RJ, Fernandez MB