Average acceptance to publication time (5-7 days)
Average article processing time (30-45 days) Less than 5 volumes 30 days
8 - 9 volumes 40 days
10 and more volumes 45 days
About The Journal Open Access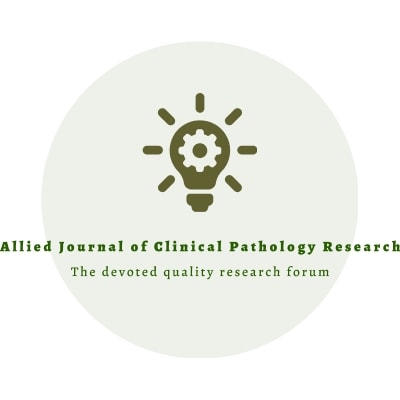 Allied Journal of Clinical Pathology Research is a peer reviewed journal covering developments in all aspects of pathology. It focusses on the advancement in the tools and techniques involved in the diagnosis of diseases through laboratory tests of body fluids. The journal aims for rapid publication of high-quality original manuscripts on various aspects of clinical pathological research.
The Allied Journal of Clinical Pathology Research is directed to clinical pathologists and others involved in the development of novel pathological strategies for the diagnosis of chronic diseases. The journal features original research articles, review articles, clinical cases, perspective and commentary on pathological studies such as histopathology, virology, hematology, microbiology, cytopathology, chemical pathology, molecular pathology, forensic pathology, dermato-pathology, neuropathology and immunopathology etc. In addition, it provides a global forum for the exchange of information and discussion on innovations in pathological tools and techniques.
Aims and Scope
Allied Journal of Clinical Pathology Research is an open access journal designed for the wide spread dissemination of research findings in this field of clinical pathology. The principal criterion for publication is potential impact on patient care as well as emphasis on conceptual breakthroughs in clinical pathology.
The Allied Journal of Clinical Pathology Research accepts manuscripts as original research article, review article, short communication, case report, letter-to-the-Editor and Editorials for publication in an open access platform. Article processing will be done through the Editorial Manager System for standard peer review process and provides easy access to the authors to track the process of manuscript evaluation and publication in an automated way.
All the submitted manuscripts undergo peer review by the subject matter experts under the supervision of the assigned Editorial committee member of the Allied Journal of Clinical Pathology Research.
You may send the article as an email attachment to the following mail-id clinpathology@peerreviewedjournals.com / pathology@alliedacademies.org
Just Published Articles View More
Relevant Topics