Journal h-index : 4

Journal cite score : 0.37
Journal impact factor : 0.45
Average acceptance to publication time (5-7 days)
Average article processing time (30-45 days) Less than 5 volumes 30 days
8 - 9 volumes 40 days
10 and more volumes 45 days
About The Journal Open Access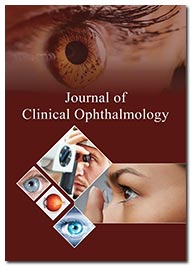 Journal of Clinical Ophthalmology aims to advance the Clinical practice of Ophthalmology through the rapid publication of high-quality original research, systematic reviews, meta-analyses and technology reports, perspectives on all disciplines and therapeutic areas within the specialty.
The journal publishes manuscripts by the Ophthalmologists and for the ophthalmologists as well as for the individuals involved in Clinical Ophthalmology research. It features original research articles, review articles, clinical cases, perspective, and commentary by covering all areas of eye disease.
Journal of Clinical Ophthalmology is an open access journal designed for the wide dissemination of research in this field to worldwide audience. New developments in methodology and techniques are important resources for the research community. The journal emphasizes publication of conceptual breakthroughs in the field of ophthalmology and novel discoveries to treat disorders of eyes such as glaucoma, cornea, cataracts, ocular oncology, uveitis, refractive and ophthalmic surgery.
The journal encompasses a wide area of knowledge in this field such as retina, oculoplastics, pediatric ophthalmology, vitreo-retinal surgery, retinal ophthalmology, myopia, amblyopia (lazy eye), burning eyes, clinical trials Related to eye diseases,color blindness, cornea transplant, dry eye infographic, dry eye syndrome, eye allergies, eye herpes, eye twitching, floaters, flashes and spots,Fuchs' corneal dystrophy, keratoconus, macular dystrophy, ocular hypertension, ocular migraine, peripheral vision loss, red eyes etc.
The journal accepts original research article, review article, short communication, case report, letter-to-the-Editor and Editorials on recent research developments in clinical ophthalmology for publication. Manuscript processing will be done through the Editorial tracking System to ensure quality in the peer review process. The editorial tracking provides easy access to the authors to track the process of manuscript evaluation and publication in an automated way.
All the submitted manuscripts undergo peer review done by the experts of concerned field. Approval of at least two independent reviewers and the editor is mandatory for any manuscript to be considered for publication.
Authors are requested to submit their manuscripts through online submission and tracking system which is located at
www.scholarscentral.org/submission/clinical-ophthalmology-vision-science.html or as an email attachment
to manuscripts@alliedacademies.org
h-index
Articles published in Journal of Clinical Ophthalmology have been cited by esteemed scholars and scientists all around the world. Journal of Clinical Ophthalmology has got h-index 4 , which means every article in Journal of Clinical Ophthalmology has got 4 average citations.
Just Published Articles View More
Relevant Topics