About The Journal Open Access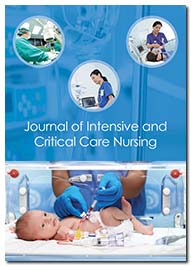 Critical Care Nursing is an important part of Nursing with a focus of complete care of the patients. Journal of Intensive and Critical Care Nursing is a newly launched Open access, Peer-reviewed Journal which will be dedicated to serve and promote the scientific community dealing with utmost care of critically ill patients in the area of Critical Care Nursing, Intensive Care Medicine and Emergency and Critical Care.
The Journal of Intensive and Critical Care Nursing aims to disseminate valuable scientific information involved in Nursing care research. Articles from the academic community contributing novel information are welcome in the form of a research, review articles, case reports, short communication, Editorial etc. The principal criteria for publication is potential care of critically sick patients.
Aims and Scope
The journal scope encompasses several important topics including but not limited to Intensive Care Unit, Veterinary Emergency and Critical Care, Neuro Intensive Care, Inflavonoid Intensive Care, Pediatric Intensive Care, Surgical Critical Care, Pediatric Emergency Care, Pulmonary Critical care, Ultimate flora Critical Care 50 Billion, Critical Care Paramedic, Intensive and Critical Care Medicine and Anaesthesia and Intensive Care.
With an emphasis on current ongoing research, Submissions of articles are welcome in the area of Critical care Nursing. The Journal is using Editor Manager System for easy online tracking and managing of the manuscript processing. Each article undergoes a peer review process under the supervision of an assigned Editor. To be acceptable for publication, an article should be positively considered by two individual reviewers followed by the Editor's consent.

You may submit manuscripts online at: http://www.editorialmanager.com/alliedjournals or E-mail us the attachment to: [email protected]

*2016 Journal Impact Factor was established by dividing the number of articles published in 2014 and 2015 with the number of times they are cited in 2016 based on Google search and the Scholar Citation Index database. If 'X' is the total number of articles published in 2014 and 2015, and 'Y' is the number of times these articles were cited in indexed journals during 2016 then, impact factor = Y/X