Journal H-index : 2

Journal cite score : 369.86
Journal impact factor : 164.30
Average acceptance to publication time (5-7 days)
Average article processing time (30-45 days) Less than 5 volumes 30 days
8 - 9 volumes 40 days
10 and more volumes 45 days
About The Journal Open Access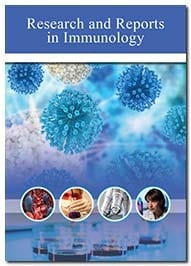 Research and Reports in Immunology is a peer-reviewed scientific Journal that publishes immunological articles with high quality and significance, which aim at facilitating design/discovery of novel drugs. This journal's contents constitute case reports, review articles, research articles, opinion, short commentary, letter to editor in this discipline.
Aims and Scope
The journal aims to focus on all aspects of immunology that may provide a better insight into the immune system in order to achieve an immediate and comprehensive cure for immunological disorders. To this extent, the journal encompasses a wide spectrum of topics including innate and adaptive immunity, complement system, autoimmunity, allergy, inflammation, development of immune cells, antigen presentation, antigenicity, signal transduction in immune cells, gene regulation, infectious diseases, vaccines, and stem-cell transplantation.
The range of subjects covered by the journal include Classical Immunology, Clinical Immunology, Immuno-Oncology, Computational Immunology, Diagnostic Immunology, Evolutionary Immunology, Immunopathology, Immunogenetics, Immunopharmacology, Neuroimmunology, Systems Immunology, Molecular Immunology, Radiology Immunology, and Veterinary Immunology.

The Journal constitutes its Editorial-Board comprising scholars from all over the world that may be instrumental in offering their critical views on research and report related to immunology.
You may submit the manuscripts on our online portal or as an email attachment to the mail-id [email protected] and/ or [email protected]
H-index
Articles published in Research and Reports in Immunology have been cited by esteemed scholars and scientists all around the world. Research and Reports in Immunology has got H-index 2 , which means every article in Research and Reports in Immunology has got 2 average citations.
Just Published Articles View More