About The Journal Open Access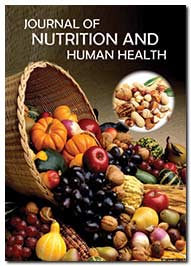 Welcome to the Journal of Nutrition & Human Health
Journal of Nutrition and Human Health, a newly launched scientific journal dedicated to advancing the science of nutrition and human health through the rapid publication of high-quality original research, systematic reviews, meta-analyses and technology reports, perspectives, etc.
The journal is directed to nutritionist and others involved in research and practice of nutrition and human health. It features every facet of the nutrition and human health to find better ways to treat illnesses and conditions of the human health.
Aims and Scope
With an emphasis on conceptual breakthroughs, the journal goal is to facilitate rapid publication and circulation of novel discoveries in the field of nutrition, nutrigenomics, nutritionist communications, food chemistry, food Science, diabetes nutrition, food safety and human health and other aspects relevant to nutrition.
You may submit manuscripts online at https://www.scholarscentral.org/submissions/nutrition-human-health.html or may send as an email attachment to our editorial office at [email protected]
Just Published Articles View More
Relevant Topics