Journal H-index : 3

Journal cite score : 0.46
Journal impact factor : 2.00
Average acceptance to publication time (5-7 days)
Average article processing time (30-45 days) Less than 5 volumes 30 days
8 - 9 volumes 40 days
10 and more volumes 45 days
About The Journal ISSN: 2591-8036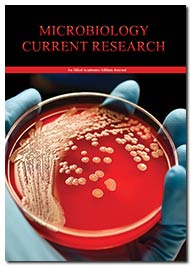 Editor-in-Chief:
Ahmed Mohamed Morad Asaad, Professor of Microbiology, College of Medicine, Najran University, Saudi Arabia.
Main Indexing sites include-
China National Knowledge Infrastructure (CNKI)
Secret Search Engine Labs,
CiteFactor,

Microbiology: Current Research is a scientific open access journal that deals with the ongoing research in the field of basic and applied microbiology. Microbiology is the study of all living organisms that are too small to be visible with the naked eye. This includes bacteria, archaea, viruses, fungi, prions, protozoa and algae, collectively known as 'microbes'.
The journal encompasses the study related to cell biology, molecular biology, developmental biology, physiology, pathogenicity, biodiversity, biotechnology, evolution, and genetics of microorganisms and their viruses. The sub-disciplines of Microbiology include Virology, Parasitology, Mycology and Bacteriology. It also covers plant-microbe interactions, and environmental and theoretical microbiology.
Microbiology: Current Research is a Journal that focuses on the research interest and the major prospective which highlights the field of Microbiology. The Journal accepts all the types of articles i.e. Research Article, Review Article, Mini-Review Article, Clinical and Medical Images, Short Communication, Case Report, and Opinion Article. Editorial Tracking is an Online Manuscript Submission, review and tracking systems. Reviewers can download manuscripts and submit their opinions to the editor. Editors can manage the whole submission/review/revise/publish process.
Kindly submit your manuscript online at www.scholarscentral.org/submissions/microbiology-current-research.html or through email at: [email protected]
H-index
Articles published in Microbiology: Current Research have been cited by esteemed scholars and scientists all around the world. Microbiology: Current Research has got H-index 3 , which means every article in Microbiology: Current Research has got 3 average citations.
Just Published Articles View More
Relevant Topics