Average acceptance to publication time (5-7 days)
Average article processing time (30-45 days) Less than 5 volumes 30 days
8 - 9 volumes 40 days
10 and more volumes 45 days
About The Journal Open Access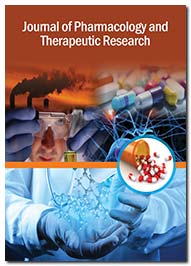 Journal of Pharmacology and Therapeutic Research is an open access, peer reviewed journal that focuses on the interdisciplinary research offering therapeutic solutions to various neurological, genetics, psychological, and respiratory issues affecting the human beings.

Aim & Scope

Journal of Pharmacology and Therapeutic Research underlines the importance of pharmacology in offering novel therapeutic solutions to the public health challenges that may arise due to Pulmonary Fibrosis, Aging, Neuroinflammation and Neurodegenerative Diseases. The journal thus encourages research on therapeutic methods by including research on Pharmacogenomics, Pharmacogenetics, Pharmacology of Tissue Repair and Regeneration. Pharmacotherapeutics. It prominently discuses the reaction to the drugs such as Anti-Inflammatory Activity, Anti-diarrhoeal Activity, Signal Transduction and Receptor Pharmacology, Psychopharmacology, Neuropharmacology, Neuroendocrinology, and Regenerative Therapy. The journal also publishes research on Drug Monitoring, Schizophrenia/Drug, Antipsychotic Agents/Administration & Dosage, and Risperidone/Pharmacokinetics.
The journal is a Bi-monthly, international, fully peer-reviewed publication.
The editors believe papers published to be original, of sound science, purposeful for risk analysis (valuation, communication, management) and related areas, well written (in English), and a contribution to the scientific works. The journal's emphasis is on publication of papers that contribute to improvements in human health.
The journal constitutes its Editorial-Board comprising scholars from all over the world that offers their critical views on the role of pharmacology in fighting chronic health disorders.
Journal of Pharmacology and Therapeutic Research welcomes submissions via Online Submission System www.scholarscentral.org/submissions/pharmacology-therapeutic-research.html or send an E-mail: [email protected] and/or [email protected]
Fast Editorial Execution and Review Process (FEE-Review Process)
Journal of Pharmacology and Therapeutic Research is participating in the Fast Editorial Execution and Review Process (FEE-Review Process) with an additional prepayment of $99 apart from the regular article processing fee. Fast Editorial Execution and Review Process is a special service for the article that enables it to get a faster response in the pre-review stage from the handling editor as well as a review from the reviewer. An author can get a faster response of pre-review maximum in 3 days since submission, and a review process by the reviewer maximum in 5 days, followed by revision/publication in 2 days. If the article gets notified for revision by the handling editor, then it will take another 5 days for external review by the previous reviewer or alternative reviewer.
Acceptance of manuscripts is driven entirely by handling editorial team considerations and independent peer-review, ensuring the highest standards are maintained no matter the route to regular peer-reviewed publication or a fast editorial review process. The handling editor and the article contributor are responsible for adhering to scientific standards. The article FEE-Review process of $99 will not be refunded even if the article is rejected or withdrawn for publication.
The corresponding author or institution/organization is responsible for making the manuscript FEE-Review Process payment. The additional FEE-Review Process payment covers the fast review processing and quick editorial decisions, and regular article publication covers the preparation in various formats for online publication, securing full-text inclusion in a number of permanent archives like HTML, XML, and PDF, and feeding to different indexing agencies.
Just Published Articles View More
Relevant Topics