Journal h-index : 4

Journal cite score : 0.42
Journal impact factor : 0.22
Average acceptance to publication time (5-7 days)
Average article processing time (30-45 days) Less than 5 volumes 30 days
8 - 9 volumes 40 days
10 and more volumes 45 days
About The Journal Open Access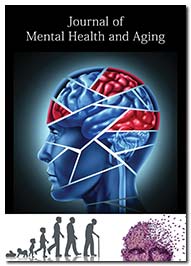 Journal of Mental Health and Aging is a leading International scientific publishing journal for the rapidly evolving research in mental health and aging. The journal explores the psychological and psychiatric issues that arise as a result of normal aging or, aberrant, pathological aging, as well as the mental difficulties that plague the elderly. In addition, the journal focuses on multidisciplinary and innovative approaches that devise new therapies and medical services that can be used to help the elderly and their families improve their mental health and standards of life.
The Journal promotes an integrated approach to evaluating diverse bio-psychosocial processes and etiological factors linked to psychological changes in the aged while emphasizing on the diverse tactics and focussing on rigorous quantitative and qualitative research, as well as on emerging challenges.
As a part of the journal's quality and standards, all the new submitted manuscripts are subjected to a single-blind peer-review procedure prior to publication. Immediately after publishing, the articles are made freely and permanently available online in accordance with the open-access license. Open access publications increase the probability of higher citations and wider recognition of the author's contributions.
The journal is indexed in PUBLONS and Google Scholar.
The Article's turn-around time range is 30-45 days.
Acceptance to publication production time is 5-7 days
The Journal offers wide coverage of relevant topics including but not limited to Psychology, Behavioral Science, Public Health, Longevity and mortality, Mental health, Alcoholism, Long-term care, Social support, and general health.
Journal accepts all forms of science communications such as Original research articles, review articles, Case reports, Mini reviews, Commentaries, Short communication, Image articles, Special issues, Thesis, letters to the Editor, and Editorials.
The manuscript processing takes place on Online Manuscript submission and Editorial Tracking System for reviewing, editorial processing, publication production, and quality tracking of the manuscripts. The journal follows a single-blind peer-review process wherein at least two independent reviewers' approval followed by the Editor's acceptance is required for the final publication of the manuscript.
Manuscript submission
https://www.scholarscentral.org/submissions/mental-health-aging.html or via e-mail to the Editorial Office at mentalhealth@neurologyinsight.com
h-index
Articles published in Journal of Mental Health and Aging have been cited by esteemed scholars and scientists all around the world. Journal of Mental Health and Aging has got h-index 4 , which means every article in Journal of Mental Health and Aging has got 4 average citations.
Just Published Articles View More
Relevant Topics