Readership Metrics (By Google Analytics)
Mental Health and Aging is an open access, peer-reviewed, the multidisciplinary journal. Journal ambition is to publish the most ground-breaking and cutting-edge research from all over the world. The Journal publishes all types of articles such as research, reviews, cases, communications, etc., in the field of Neurology, Psychology, Geronotology, Dementia, Mental Health, Mental Disorders etc. All published articles are accepted after peer review process by highly qualified, expert reviewers to meet the objectives of the standard scientific publication.
Google Analytics Metrics for the Journal of Mental Health and Aging
A statistical representation of global users for Journal of Mental Health and Aging (Source: Google Analytics)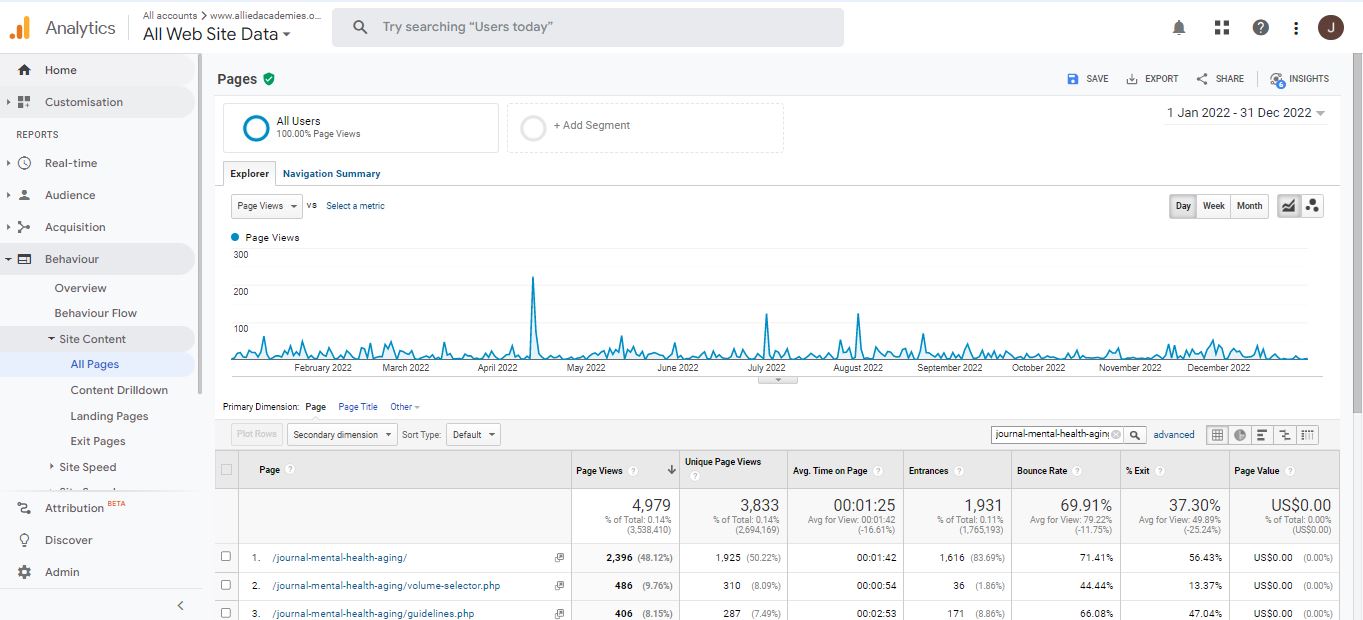 The archived content of the journal represents the track of progress made in this field over the past years. The information gathered by the journal functions as resource of refined knowledge for academicians, scientists, physicians, clinical and medical professionals. The volume of information contained on the journal web-site is contributed by authors from different regions of the world. Due to these reasons readers hailing from diverse professional backgrounds and regions are interested in the journal content.
It is quite evident from Google Analytics data that browser, viewers, and users are constantly visiting the web page of the journal from various quarters of the world 24×7.

It was observed that approximately 10,598 visitors have accessed the journal pages for reading and deriving information for their use

Our reader base originates from both developing and developed Nations. Readers from all the continents were found to visit our website the proportion of their distribution was as follows: United States (29.41%), Asia (18.19%), United Kingdom (2.92%), and Canada (1.76%).

Sections of scientific literature including current issues and archives has recorded highest visibility and readership indicted that there exists profound interest in our published content.

The journal has also taken keen interest in profiling the affiliations and academic achievements of authors and editors and the number of clicks on their web page show tremendous interest among the visitors. Concomitantly, this also resulted in wider recognition of the authors and editors and their contributions among medical research community.
Analysis on global internet users of alliedacademies.org (By Google Analytics)
A statistical analysis on global internet users of alliedacademies.org (By Google Analytics)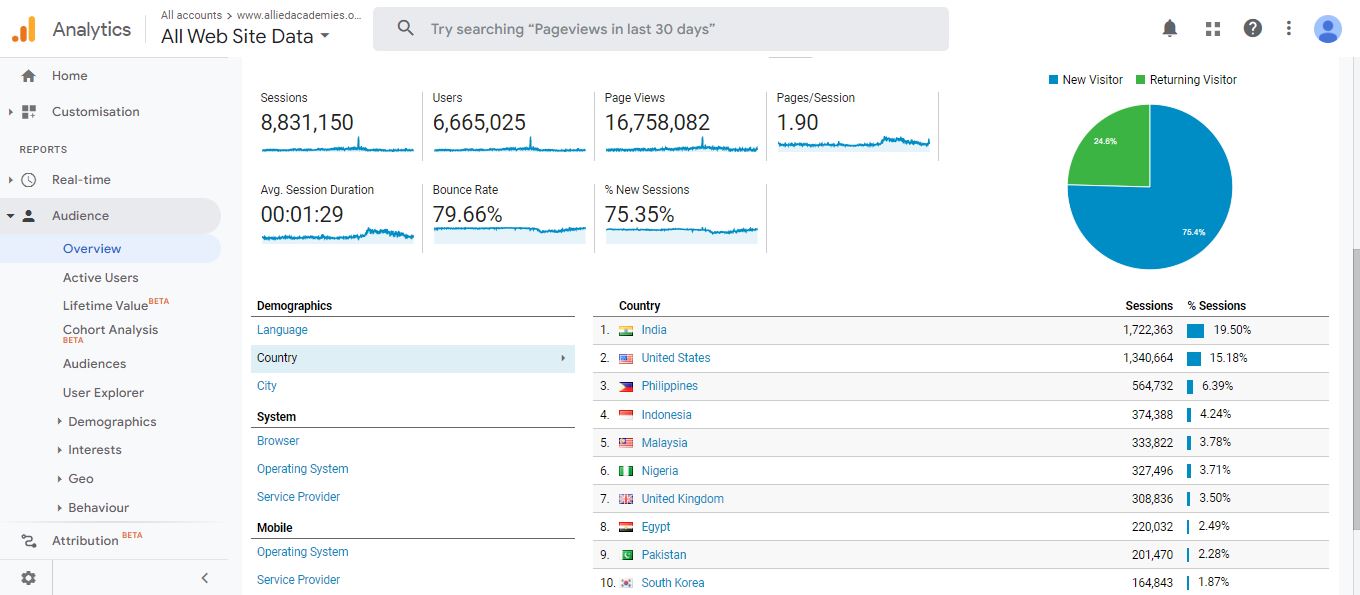 Allied Academies was established in the year 1994 and operates a journal portfolio focusing on biomedical, environment, finance and marketing subjects. The main aim is to publish original, peer-reviewed articles following internationally recognized standard editorial guidelines, publication ethics and production policies. Several authors affiliated to reputed organizations, institutions, government bodies have published their valuable contributions with Allied Academies.
This itself is the testimony to the trust and confidence gained by the publisher over several years of publishing history. The web metric has revealed that Allied Academies is highly popular among scientific associations, libraries and professional bodies. More than 2,147,577 users have accessed the publisher website with more than 6,486,1480 page views.
Web metrics of Allied Academies (By Google Analytics)
Users : 2,147,577
Page views : 6,486,148
Downloads : 76
As per the latest available Google Stats, the number of web sessions was 2,882,056 with 2.25 percent rate of new sessions. Additionally several users are also revisiting the web site indicating their sustained interest to read and publish content with Allied Academies journal. Upon considering the stats for the linked resources of Allied academies, the counts will be much higher.