About The Journal Open Access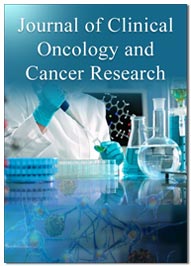 Journal of Clinical Oncology and Cancer Research is the trending research interest of present time and the very same is flourishing as the budding journal from the house of Allied Academics. This open access journal covers a vast area of cancer pathobiology and showing promising contribution in the knowledge base of cancer research. The journal will maintain regular issue release in every quarter. All the communication in this journal will be tunneled through high quality peer-review checkup. We emphasize the open access policy for the pebble less global reach of each article.
Submit Manuscript at
www.scholarscentral.org/submissions/clinical-oncology-cancer-research.html or send as an e-mail attachment to the Editorial office at [email protected]
Journal of Clinical Oncology and Cancer Research is a timely resource on cancer pathobiology, which provides a wide range of research arena for every researcher working in cancer biology. The key aspects of journal will cover clinical aspects of cancer, cancer diagnosis in human, cancer diagnostic tools and techniques, Case reports on critical cancer events, Therapeutic paradigm of cancer, Medical interpretation of cancer patient's data, palliatives care for cancer patients, psychological and physical medication for cancer patient, General pathobiology of cancer, recent progresses in cancer treatment etc. The quality of the journal will be maintained higher, practicing original data presentation and ethical clarity. Accuracy and authenticity in the scientific data representation will be given utmost priority for publication.
The original contributions from the authors are greatly appreciated. Review, research, Short-communications, case reports, commentary, and letters are the orthodox article format, we receive for publication. All the research communications are streamed through strict peer-review checkup and the acceptance of the articles solely depends on the reviewers comments. Blissful contribution of editorial board, constituted by eminent personnel with the experience and expertise in cancer biology, has enriched the quality of the journal. Section editors and guest editors are employed to maintain the proper evaluation of the manuscript within the desired time-frame. Clinical Oncology and Cancer Research is encouraging the research professionals to provide impactful research work for the progress in cancer understanding. Author are requested to submit manuscript at Online Submission System or as an e-mail attachment at [email protected]
Just Published Articles View More
Relevant Topics