Journal h-index : 1

Journal cite score : 0.25
Journal impact factor : 1.17
Average acceptance to publication time (5-7 days)
Average article processing time (30-45 days) Less than 5 volumes 30 days
8 - 9 volumes 40 days
10 and more volumes 45 days
About The Journal Open Access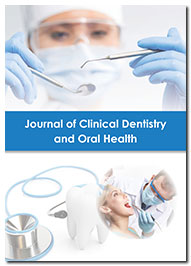 Journal of Clinical Dentistry and oral health is a multidisciplinary, peer reviewed, scientific publication that publishes leading-edge scholarly manuscripts based on contemporary research findings related to Oral Health as well as the diagnosis and treatment of oral diseases, including but not limiting to tooth decay, gingivitis, dental plaque, tooth loss, system dental diseases, mouth ulcer and oral cancer.
The journal prioritizes the publication of manuscripts that may contribute to the accentuation of dental research, prosthodontics research as well as the advent of novel dental biomaterials that are suitable for biomedical applications.
Aims and Scope
The broad scope of the Journal of Clinical Dentistry and oral health encompasses the conceptual and applicatory aspects of tooth pathology, endodontics, geriodontics, oral microbiology, oral biology, cosmetic dentistry, orthodontics, implant dentistry, forensic dentistry, primary care dentistry, maxillofacial pathology and veterinary dentistry.
The journal acts as a platform for the dissemination and exchange of information that may further the process of research and implementation of methods and tools of dental information technology, oral & maxillofacial surgery, oral medicine and raise awareness regarding the importance of dental public health.
The journal invites scientists and medical researchers from countries around the world to submit their original manuscripts in the form of research articles, review articles, short communications, case reports, opinion articles and commentaries. All submitted manuscripts will undergo a rigorous process of double blind peer review. The acceptance of each citable manuscripts is subject to the approval from two independent reviewers.
You may submit manuscripts online at: https://www.scholarscentral.org/submissions/clinical-dentistry-oral-health.html
If there is any difficulty with online submission, alternatively manuscripts are accepted via email to [email protected]
h-index
Articles published in Journal of Clinical Dentistry and Oral Health have been cited by esteemed scholars and scientists all around the world. Journal of Clinical Dentistry and Oral Health has got h-index 1 , which means every article in Journal of Clinical Dentistry and Oral Health has got 1 average citations.
Just Published Articles
Relevant Topics