Journal h-index : 1

Journal cite score : 0.05
Journal impact factor : 0.09
Average acceptance to publication time (5-7 days)
Average article processing time (30-45 days) Less than 5 volumes 30 days
8 - 9 volumes 40 days
10 and more volumes 45 days
About The Journal Open Access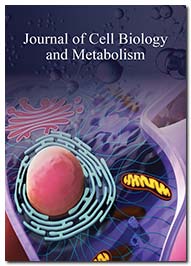 Journal of Cell Biology and Metabolism
Cell Biology deals with the fascinating world of biology which covers almost all aspects of the structure of Cell. Journal of Cell Biology provides optimum platform where researchers from all over world can submit their work to it. Journal of Cell Biology is a famed international journal having an impeccable Reviewer and Editorial Board.
This multidisciplinary open access journal provides the chance to researches to disseminate the work in the form of original research article, review article, case reports, short communication etc.
Journal of Cell Biology and Metabolism is a scientific open access journal that deals with the on-going research on Cell Structure and its metabolism. The study of Cell Biology includes fundamental research on Cell Anatomy, Cell Structure, Neurocellular Biology, Cell Therapy, Cell transplantation, Stem Cell Biology and Membrane Biology.
Articles with recent research output that can aid to the progress of the subject are most welcome. The journal uses Editorial Manager System for easy online tracking of the articles available to authors. Manuscripts undergo thorough peer reviewing under the guidance of eminent scientists who are expert in their subject field.
Authors can submit manuscripts online at https://www.scholarscentral.org/submissions/cell-biology-metabolism.html or may send the article as an email attachment either to [email protected]
h-index
Articles published in Journal of Cell Biology and Metabolism have been cited by esteemed scholars and scientists all around the world. Journal of Cell Biology and Metabolism has got h-index 1 , which means every article in Journal of Cell Biology and Metabolism has got 1 average citations.
Just Published Articles View More
Relevant Topics