Journal h-index : 4

Journal cite score : 0.30
Journal impact factor : 0.29
Average acceptance to publication time (5-7 days)
Average article processing time (30-45 days) Less than 5 volumes 30 days
8 - 9 volumes 40 days
10 and more volumes 45 days
About The Journal Open Access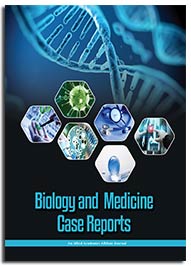 Biology & Medicine Case Reports provides comprehensive range of innovative research, interventions and perspectives in diverse areas of Biological science, Medical science, Health care, Global Health and General Science and is soliciting submissions from a diverse group of scholars, researchers, academiciansand medical practitioners globally. The journal publishes papers based on quantitative and/or qualitative research design, both scholarly and practitioner-based research on all aspects in the fields of biological science , medical sciences and new research evolutions relevant to biology.
Biology & Medicine Case Reports is an international open access journal where the articles are made available freely through online without any restrictions or any other subscriptions to researchers worldwide. Journal is indexed in PUBLONS and Google scholar.
The average Article turn around time 30-45 days.
Acceptance to Final publication time 5-7 days.
The Journal aims to disseminate comprehensive and well-balanced research outcomes in Clinical efficacy, Immunology, Conservation biology, Medicinal Chemistry, Bioinformatics, Anatomy and Neurosciences.
Journal accepts all forms of science communications including Original research articles, critical reviews, Case reports, Mini reviews, Commentaries, Short communication, Image articles, Special issues, Thesis, letters to editors and editorials..
The Journal functions on the Online Manuscript submission and Editorial Tracking System for integrated and transparent reviewing, editorial processing and quality improvement of the manuscripts. The journal follows single-blind peer-review process and at least two independent reviewer's approval followed by the Editor acceptance is required for the citable publication of the manuscript.
Manuscript Submissions:
https://www.scholarscentral.org/submissions/biology-medicine-case-report.html or via email to the Editorial Office to biolmed@escientificjournals.com
Biology & Medicine Case Reports welcomes passionate and competent researchers and academicians to join the Editorial or Reviewer board by sending the Curriculum Vitae (CV) with brief biography to biolmed@esciencejournals.org
h-index
Articles published in Biology & Medicine Case Reports have been cited by esteemed scholars and scientists all around the world. Biology & Medicine Case Reports has got h-index 4 , which means every article in Biology & Medicine Case Reports has got 4 average citations.
Just Published Articles View More
Relevant Topics