About The Journal Open Access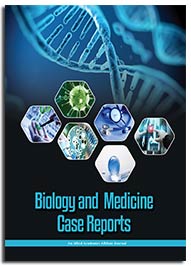 Biology and Medicine Case Reports is multidisciplinary journal dedicated towards rapid publication of high quality case reports and scholarly comments on vast yet significant areas of Biology and Medicine.
Biology and Medicine Case Reports is a scientific peer-reviewed open access journal that publishes case reports in all areas of Biology and Medicines.
Biology and Medicine Case Reports aims to consider any original research articles, review articles, editorial, news, case reports, short communications, clinical briefs and advances, brief reports on clinical and laboratory observation, correspondence, images, problem solving perspectives and new updates that expands the field of general biological and medical knowledge. The principal criterion for publication is potential impact on patient care. It intends to promote the latest advances and developmental activities conducted in the expansive field of Biology and Medicine.
The wide scope of the journal emphases on contributing a great measure of scientific information related to the advances in Biology and Medicine towards better healthcare. The journal have broad spectrum of Biological sciences and Medical sciences including but not limited to Clinical Research, Epidemiology, Oncology, Biomedicine, Dentistry, Physiotherapy, Pulmonology, Nephrology, Gynaecology, Dermatology, Dermatoepidemiology, Otorhinolaryngology, Ophthalmology, Sexology, Osteology, Kinesiology, Neuroscience, Haematology, Psychology, Paediatrics, Angiology/Vascular Medicine, Critical care Medicine, Cardiology, Endocrinology, Gastroenterology, Infectious Diseases and Vaccinology, Hepatology, Geriatric Medicine, Bariatrics, Pharmacy and Nursing, Pharmacognosy and Phytochemistry, Radiobiology, Pharmacology, Toxicology, Clinical immunology, Clinical and Hospital Pharmacy, Cell Biology, Genomics and Proteomics, Pharmacogenomics.
Just Published Articles
2020 Conference Announcement January 08, 2020
Biol Med Case Rep: 3(2): 1-3
Luis Ayala