About The Journal Open Access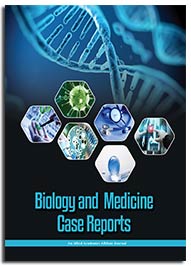 Biology and Medicine Case Reports is a newly launched multidisciplinary scientific journal dedicated to the advancement of the field of biological science and medicine or medical science. It also addresses all aspects of biological research and fundamental understanding of the medical science, through the rapid publication of high-quality original research, systematic reviews, meta-analyses and technology reports, commentaries, perspectives and scholarly comments on vast yet significant areas of Biology and Medicine.
Biology and Medicine Case Reports is a scientific peer-reviewed open access journal that publishes case reports in all areas of Biology and Medicines.
Aim and Scope
Biology and Medicine Case Reports aims to consider any original research articles, review articles, editorial, news, case reports, short communications, clinical briefs and advances, brief reports on clinical and laboratory observation, correspondence, images, problem solving perspectives and new updates that expands the field of general biological and medical knowledge. The principal criterion for publication is potential impact on patient care. It intends to promote the latest advances and developmental activities conducted in the expansive field of Biology and Medicine.
The wide scope of the journal emphases on contributing a great measure of scientific information related to the advances in Biology and Medicine towards better healthcare. The journal has broad spectrum of Biological Sciences and Medical sciences including but not limited to Clinical Research, Epidemiology, Oncology, Biomedicine, Dentistry, Physiotherapy, Pulmonology, Nephrology, Gynaecology, Dermatology, Dermatoepidemiology, Otorhinolaryngology, Ophthalmology, Sexology, Osteology, Kinesiology, Neuroscience, Haematology, Psychology, Paediatrics, Angiology/Vascular Medicine, Critical care Medicine, Cardiology, Endocrinology, Gastroenterology, Infectious Diseases and Vaccinology, Hepatology, Geriatric Medicine, Bariatrics, Pharmacy and Nursing, Pharmacognosy and Phytochemistry, Radiobiology, Pharmacology, Toxicology, Clinical immunology, Clinical and Hospital Pharmacy, Cell Biology, Genomics and Proteomics, Pharmacogenomics, Neurology, Histology, Embryology, Ecology.
It also includes further topics like:
Cell physiology, Clinical anatomy, embryology, electrophysiology, neuroanatomy, forensic anatomy

Molecular genetics, GMOs, DNA mapping, CRISPER/Cas9, quantification of protein

Biomechanics, biomedical engineering, cell and molecular engineering, medical device and instrument

Global and climate change, human impact on biodiversity

Computational biology, system biology

Synthetic biology, biosensor, nanotechnology, neural network

Cryosurgery, Cryoprotective additives and their actions, hypothermia, Cloning, HGP

Immunology, marine biology, microbiology, conservation biology
The Journal is using Editor Tracking System for easy online tracking and managing of the manuscript processing.
Each article undergoes a peer review process under the aegis of an assigned Editor. The submitted article is to be acceptable for publication, an article should be positively considered by two individual reviewers followed by the Editor's consent by an e-mail at [email protected]g or online at https://www.scholarscentral.org/submissions/biology-medicine-case-report.html.
Just Published Articles View More
Relevant Topics