Journal h-index : 2

Journal cite score : 0.36
Journal impact factor : 0.33
Average acceptance to publication time (5-7 days)
Average article processing time (30-45 days) Less than 5 volumes 30 days
8 - 9 volumes 40 days
10 and more volumes 45 days
About The Journal Open Access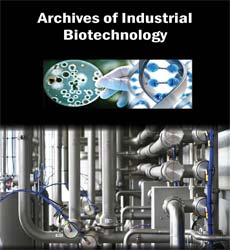 Archives of Industrial Biotechnology is an open access, bi-monthly Journal with aim to publish peer-reviewed articles on extensive concepts pertaining to the application of biotechnology to industrial processes and focuses on exploiting microorganisms and cellular biological principles to develop economically viable products such as chemicals, textiles, and bioenergy, as well as to treat harmful waste from industrial plants using biological medium.
The journal focuses on fundamental and applied aspects in biotechnology, optimising existing biochemical pathways, developing biocatalytic tools, and improving commercialised techniques in addition to developing microorganisms, biobased building blocks/applications, study of genomics, proteomics, bioinformatics, manufacturing of specific chemicals, polymers and plastics.
The journal publishes original research articles, critical reviews, case studies, short communications, commentaries, opinions, perspectives, letters to editors and image articles.
The journal uses an online manuscript submission and peer-review system where authors can track their manuscript progress and reviewers/editors can provide their feedback. The entire submission, review, revision and publication process can be managed by the editors. Each article is reviewed by international experts to verify the quality and scientific validity of the content. The time period for the peer-review process is 14-21 days.
All the published articles of the journal are accessible to the readers all across the world permanently with no restrictions under open access license.
Manuscript Submission: https://www.scholarscentral.org/submissions/archives-industrial-biotechnology.html
Editorial Office Contact: aaaib@alliedacademiesscholars.com
Archives of Industrial Biotechnology welcome scientists, engineers, academics to be a part in the Editorial Board of the journal. Further information: indbiotech@medicineinsights.com
h-index
Articles published in Archives of Industrial Biotechnology have been cited by esteemed scholars and scientists all around the world. Archives of Industrial Biotechnology has got h-index 2 , which means every article in Archives of Industrial Biotechnology has got 2 average citations.
Just Published Articles View More
Relevant Topics