About The Journal Open Access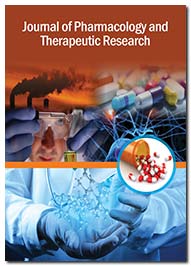 Journal of Pharmacology and Therapeutic Research is an open access, peer reviewed journal that focuses on the interdisciplinary research offering therapeutic solutions to various neurological, genetics, psychological, and respiratory issues affecting the human beings.
Aim & Scope
Journal of Pharmacology and Therapeutic Research underlines the importance of pharmacology in offering novel therapeutic solutions to the public health challenges that may arise due to Pulmonary Fibrosis, Aging, Neuroinflammation and Neurodegenerative Diseases. The journal thus encourages research on therapeutic methods by including research on Pharmacogenomics, Pharmacogenetics, Pharmacology of Tissue Repair and Regeneration. Pharmacotherapeutics. It prominently discuses the reaction to the drugs such as Anti-Inflammatory Activity, Anti-diarrhoeal Activity, Signal Transduction and Receptor Pharmacology, Psychopharmacology, Neuropharmacology, Neuroendocrinology, and Regenerative Therapy. The journal also publishes research on Drug Monitoring, Schizophrenia/Drug, Antipsychotic Agents/Administration & Dosage, and Risperidone/Pharmacokinetics.
The journal constitutes its Editorial-Board comprising scholars from all over the world that offers their critical views on the role of pharmacology in fighting chronic health disorders.
Journal of Pharmacology and Therapeutic Research welcomes submissions via Online Submission Systemhttp://www.editorialmanager.com/alliedacademies/default or you may send the articles as an email attachment to the following email-id:[email protected]
Individuals interested in becoming members of the Editorial Review Board should contact by below email:
Just Published Articles
J Pharmacol Ther Res: 2(3): 13-16
Jacob Sheehama, Linda Van Zyl, Vetja Hakuuria
Research Article July 27, 2018
J Pharmacol Ther Res: 2(3): 6-12
Masahiro Kurita, Toshimitsu Nakayama, Satoru Asami, Taketo Uchiyama, Shinichi Ono, Atsuyoshi Nishina, Mamoru Koketsu, Takashi Suzuki
Research Article July 26, 2018
J Pharmacol Ther Res: 2(3): 3-5
Younis Khider