About The Journal Open Access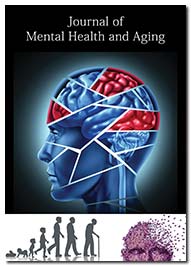 Journal of Mental Health and Aging is an international, open access, peer reviewed Journal publishing original research & review articles in all the related fields of neurology, psychology and gerontology. The journal provides a comprehensive overview of the fundamental and applied aspects of psychiatry and problems while aging.
Journal of Mental Health and Aging provides a new platform for the researchers, scientists, scholars, students in this field to publish their research work & update the latest research information to the scientific community. IJMHA is an inclusive of all multidisciplinary fields that fall within the Journal scope. We provide unlimited access towards accessing our literature centre with immense range of articles.
Aims and Scope
Journal of Mental Health and Aging aims to publish high quality, diverse article as Research, Review, Mini Review, Rapid Communications, Perspectives, Editorials, and Letters to the editor.
Journal of Mental Health and Aging accepts articles from across the disciplines including but not limited to Psychology, Neurology and Gerontology, it covers all the fields that are related to this topics. This enhances the quality of journal as it contains pool of information related to this field which assists the scientist to help them in their research work further and also to the researchers who are doing their research work on this field.
All the Submitted articles are subjected to peer review process prior to its publication to maintain the quality and the significance of the journal. The published articles are made freely and permanently accessible online immediately upon publication. This improves the citations for authors, useful in attaining impressive impact factor.
Journal of Mental Health and Aging welcomes submissions via Online Submission System http://www.editorialmanager.com/alliedjournals/ or via email to the Editorial Office at [email protected]
Mental health is the combination of our emotional, psychological, and social well-being. How we think, feel and act is affected by it. Mental health plays a key role in our day to day life as it is reflected in our action. To keep one's mind in a good condition is important for oneself and as well as for the society. People with mental health problems must be treated as quickly as possible.
Positive mental health allows people to work with their utmost potential, deal with stress effectively, and work productively which is a plus point for the society overall development.
According to Medilexicon's medical dictionary, mental health is "emotional, behavioural, and social maturity or normality; the absence of a mental or behavioural disorder; a state of psychological well-being in which one has achieved a satisfactory integration of one's instinctual drives acceptable to both oneself and one's social milieu; an appropriate balance of love, work, and leisure pursuits".
According to WHO (World Health Organization), mental health is "a state of well-being in which the individual realizes his or her own abilities, can cope with the normal stresses of life, can work productively and fruitfully, and is able to make a contribution to his or her community". WHO stresses that mental health "is not just the absence of mental disorder".
Ageing or aging, is the process of growing older. It is a natural process. To understand the basis of aging, researchers are doing their experiments on the short lived organism.
This journal will help to maintain the record of all the research findings related to this journal.
Just Published Articles