Journal h-index : 2

Journal cite score : 1.00
Journal impact factor : 0.60
Average acceptance to publication time (5-7 days)
Average article processing time (30-45 days) Less than 5 volumes 30 days
8 - 9 volumes 40 days
10 and more volumes 45 days
About The Journal Open Access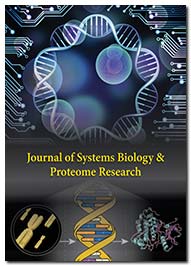 Journal of Systems Biology and Proteome Research (AASBPR) is a multidisciplinary scientific magazine dedicated to reporting the most recent developments in specific fields mathematical and computer modelling systems, and their applications in biological science research. Proteome Research publishes articles on all aspects of global protein analysis and function, including dynamic genomics, spatiotemporal proteomics, metabolomics, protein function and bioinformatics.
Aims and Scope
The total list of proteins expressed by an organism, system, or biological setting is referred to as a proteome. The term "proteome" can also refer to a collection of proteins synthesized at a specific moment in a specific cell or tissue type. The proteome is a representation of the genome, cell and tissue of an organism. AASBPR is a peer-reviewed, open-access journal. Everyone will be able to read, download, copy, print, and distribute all published articles for free, immediately and in eternity.
The journal's scope includes clinical proteomics, transcriptomics, computational modelling, proteogenomics, quantitative proteomics and lipidomics etc. AASBPR accepts journal related articles i.e. research articles, review articles, original articles, case reports, short communications, mini reviews, commentaries, perspectives, opinions, editorials, editor notes, image articles etc.
The journal constitutes its Editorial Board comprising scholars from all over the world to explore the Biology and Proteome Research to strengthen this field of study.
You may submit manuscript online at: https://www.scholarscentral.org/submissions/systems-biology-proteome-research.html or By E-mail: [email protected]
h-index
Articles published in Journal of Systems Biology & Proteome Research have been cited by esteemed scholars and scientists all around the world. Journal of Systems Biology & Proteome Research has got h-index 2 , which means every article in Journal of Systems Biology & Proteome Research has got 2 average citations.
Just Published Articles
Relevant Topics