Journal H-index : 1

Average acceptance to publication time (5-7 days)
Average article processing time (30-45 days) Less than 5 volumes 30 days
8 - 9 volumes 40 days
10 and more volumes 45 days
About The Journal Open Access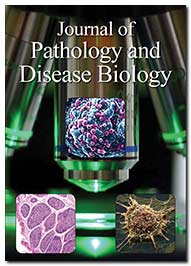 The Journal of Pathology and Disease Biology is a research oriented international open access publication that provides fast dissemination of advancements in the field of biological science focussing on the pathology of different diseases and disorders. The Journal publishes unique explorations, meta-examinations, insights, novel reports and perspectives in the relevant disciplines.
The journal is directed to pathologists and other scientists and research scholars involved in research and practice of pathology and disease biology. It features original research, review articles, clinical cases, perspectives, research protocols and commentaries. The journal mainly emphasizes on diagnosis of diseases through analysis of tissues, cells and body fluids. The journal covers expansive range of relevant topics including diagnostic, endoscopic, interventional procedures in clinical pathology, esophageal, gastric, intestinal, colonic, hepatic, and pancreatic diseases.
All the peer-reviewed articles are published under Open access creative commons attribution license. Open access publication policy plays a major role in exposing the peer-reviewed publications by making them accessible and available for reuse at no charge to researchers all over the world.
The journal operates on an online manuscript submission and editorial tracking System that allows authors to keep track of the status of their manuscripts through the interface. After submitting a manuscript, authors can follow its editorial progress using the system.

Manuscript submissions are solicited from authors at any time and from anywhere in the world at www.scholarscentral.org/submissions/pathology-disease-biology.html or via e-mail to the editorial office at [email protected]
If you would like to be a part of our journal Editorial board or Reviewer Panel, please send us your CV, brief biography and photograph to above email.
H-index
Articles published in Journal of Pathology and Disease Biology have been cited by esteemed scholars and scientists all around the world. Journal of Pathology and Disease Biology has got H-index 1 , which means every article in Journal of Pathology and Disease Biology has got 1 average citations.
Just Published Articles View More
Relevant Topics