Journal H-index : 2

Journal cite score : 0.14
Average acceptance to publication time (5-7 days)
Average article processing time (30-45 days) Less than 5 volumes 30 days
8 - 9 volumes 40 days
10 and more volumes 45 days
About The Journal Open Access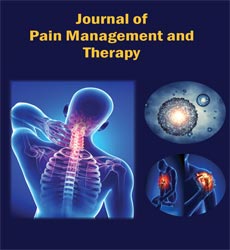 Editors-in-Chief: Delgado Cidranes, Professor of Chair of Physiotherapy Comillas University, CEO and Founder at Advanced Pain & Aesthetic Management Center in Madrid, Co-Founder of CIMEG MADRID and ISGAR SOCIETY Spain
Journal of Pain Management and Therapy is an open access and online journal. The journal's main motto is to invite budding research scholars, doctors, clinicians; physicians etc. from all over the world who have their research interest in pain and are dealing in researches from the field of pain management, therapies of pain, anaesthesiology, orthopaedics , rehabilitation and various therapies. This journal is indexed in Google scholar and RefSeek.
The journal on the broad scope deals with spine pain, neuropathic pain, pain in cancer, migraine, musculoskeletal pain, Psychological therapies, Pain Medication, MILD procedure, Arthroscopy, Rheumatology & Surgery, Inflammatory Pain, Orofacial Pain, Radiating pain, Trigeminal Neuralgia, etc.
The journal gives an open invitation to all the researchers, scholars, physicians, students, medical interns, anaesthesiologist to submit any kind of manuscript like original research, review, case-report, editorial, short-communication, opinion, letter to the editor, commentaries, image article, perspective, mini review which are very recent in the field of scientific development concerning to the cure of various kinds of pain such as neuropathic pain disorders, headache and migraine, fibromyalgia , there management , different therapies to overcome them and use of various medications.
For the submission of an article the journal uses the Editorial Tracking System and manuscript processing is managed by manuscript processing. The submitted manuscript goes through the single blind peer review process under the supervision of assigned Editor.
You may submit a manuscript online at www.scholarscentral.org/submissions/pain-management-therapy.html or you may send the article as an email attachment to ;[email protected]
H-index
Articles published in Journal of Pain Management and Therapy have been cited by esteemed scholars and scientists all around the world. Journal of Pain Management and Therapy has got H-index 2 , which means every article in Journal of Pain Management and Therapy has got 2 average citations.
Just Published Articles View More
Relevant Topics