Journal H-index : 2

Journal cite score : 0.06
Journal impact factor : 0.14
Average acceptance to publication time (5-7 days)
Average article processing time (30-45 days) Less than 5 volumes 30 days
8 - 9 volumes 40 days
10 and more volumes 45 days
About The Journal Open Access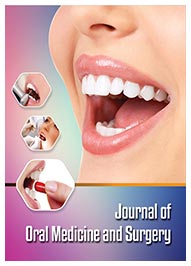 Journal of Oral Medicine and Surgery is one of the leading open access journals in the fields of Oral Medicine and Oral Surgery publishing peer-reviewed articles of scientific merit. Oral medicine is a discipline of dentistry concerned with the oral healthcare of medically complex patients including the diagnosis and management of medical conditions that affect the oral and maxillofacial region. Oral surgery refers to interventional clinical procedure performed with specific regard to the teeth, jaw, and/or gums.

This journal encourages professionals associated with research and practice of Oral Medicine and Oral Surgery to share, advance and contribute to current knowledge, thereby integrating a wide range of innovations for progression of oral health. The journal welcomes high-quality original research, systematic reviews, meta-analyses and technology reports, perspectives on all disciplines and therapeutic areas within the specialty.
The journal has wide scope including Oral Surgery, Oral Medicine, Oral Pathology, Oral Radiology, Oral Toxicology and advanced general practice dentistry and allied specializations such as leukoplakia or erythroplakias, paroxysmal neuralgias, continuous neuralgias, myofascial pain, atypical facial pain, autonomic cephalalgias, headaches, migraines, lichen planus, behcet's disease and pemphigus vulgaris.
In accordance with the open access publication policy, the published articles are openly accessible to the readers. Accessibility of latest scientific information keeps the researchers updated and leads to greater advancement of the field and discoveries.
The editorial board ensures a quick peer review with the use of Editorial Tracking System. It is an online manuscript submission, review and tracking system. Authors may submit manuscripts and track their progress through the system, hopefully to publication. Reviewers can download manuscripts and submit their opinions to the editor. Editors can manage the whole submission/review/revise/publication process.
Submitted articles are subjected to a preliminary quality control check by the editorial office, followed by external peer review. The journal follows a single-blinded peer review process where one of the subject experts from our panel provides review comments on the article quality. The average turn-around time from article submission to publication is 30 to 45 days. Final accepted articles are published in HTML and PDF formats which are made available along with abstracts within a week after acceptance for publication.

Submissions can be made online at www.scholarscentral.org/submissions/oral-medicine-toxicology.html or via e-mail to the Editorial Office at [email protected] and/or [email protected]
Professionals interested to serve as editorial or reviewer board members of the journal may drop their biograph, CV and photograph at above e-mail.
H-index
Articles published in Journal of Oral Medicine and Surgery have been cited by esteemed scholars and scientists all around the world. Journal of Oral Medicine and Surgery has got H-index 2 , which means every article in Journal of Oral Medicine and Surgery has got 2 average citations.
Just Published Articles View More
Relevant Topics