Average acceptance to publication time (5-7 days)
Average article processing time (30-45 days) Less than 5 volumes 30 days
8 - 9 volumes 40 days
10 and more volumes 45 days
About The Journal ISSN: 2591-7331(E)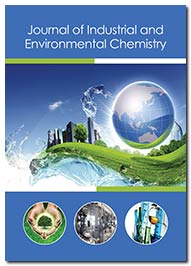 Journal of Industrial and Environmental Chemistry published by Allied Academies is an open access, single blind peer-reviewed journal. The journal emphasizes on addressing emerging challenges in industrial and environmental chemistry (relevant to air, water, earth, and biota). The journal accepts all formats of science communications including research articles, case studies, review articles, short communications, perspectives, opinions, debates and letters.
Industrial Chemistry deals with physical and chemical processes integral to the transformation of raw materials into products of human utility. Environmental Chemistry is the scientific study of chemical and biochemical phenomena that occur naturally and it includes studies of sources, reactions, transport, effects, and fates of chemical species in the air, soil, and water as well as the effects of human and biological activities on these. Environmental chemistry is an interdisciplinary science that includes atmospheric, aquatic and soil chemistry, as well as heavily relying on analytical chemistry and being related to environmental and other areas of science.
On an average, the peer review for the manuscripts is completed within 21 days from submission and average turnaround time from submission to publication is 30-45 days. Publications are hosted online in both HTML and PDF versions. The published articles will be indexed at global indexing and abstracting databases including Secret Search Engine Labs, China National Knowledge Infrastructure (CNKI), Publons and Cite Factor.

Submission of important articles containing advanced research output aiding in forwarding the subject are most welcome.
Manuscript can be submitted online at www.scholarscentral.org/submissions/industrial-environmental-chemistry.html or e-mail to [email protected] and/or [email protected]
Journal of Industrial and Environmental Chemistry welcomes you to contact editorial office if you are interested in joining as an editorial or reviewer board member.
Just Published Articles View More
Relevant Topics