Readership Metrics (By Google Analytics)
Journal of Industrial and Environmental Chemistry is a scientific platform for the scholars to publish their scientific work in the field of environmental chemistry. Scholars can contribute related to the topics like Environmental Toxicology, Environmental Radioactivity, Environmental Science, Physical Chemistry, Polymer Chemistry and Petro Chemistry etc. It is not limited to only above mentioned topics. The priority of the journal is presenting scholars' innovative work to scientific community. The reputation of the journal among the scholars is observed by the statistics from the Google Analytics.
Google Analytics has revealed an amazing statistics regarding the popularity of this journal. All through Feb 2019- Nov 2019 there were 3083 page views. The total number of returning visitors were 2910. Moreover, globally 45,870+ new users have accessed the journal website for information on the journal and the published articles.
Google Analytics Metrics for the Journal of Industrial and Environmental Chemistry
A statistical representation of global users for Journal of Industrial and Environmental Chemistry (Source: Google Analytics)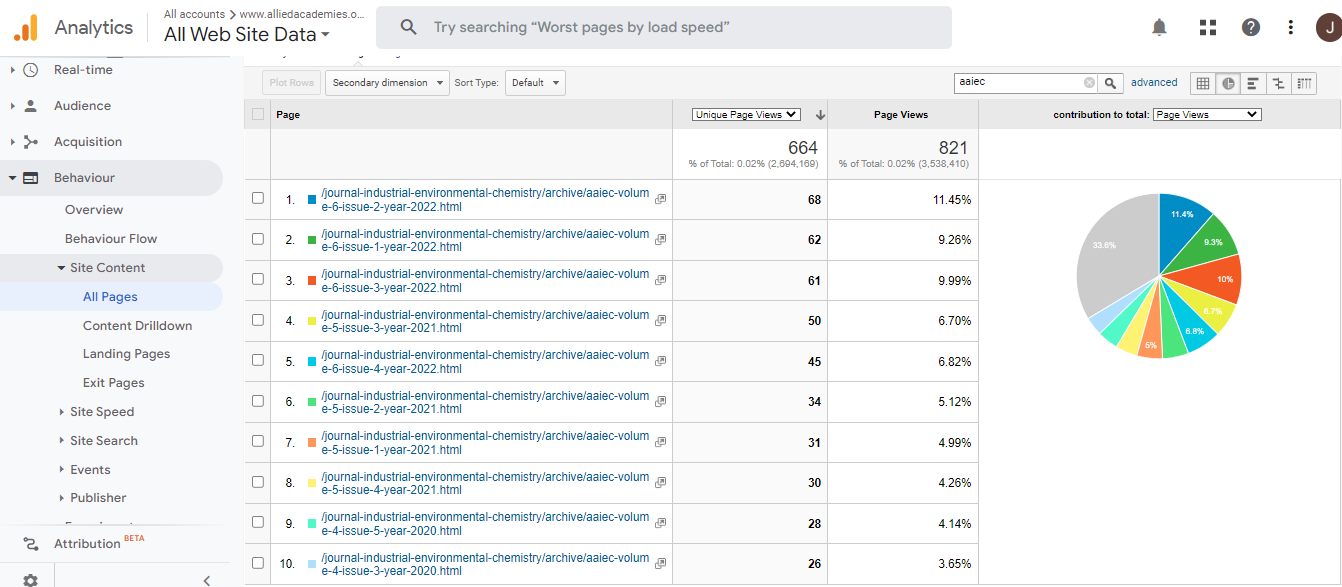 More than 72,000+ Visitors visiting the journal site to read the published articles or submit their research outcomes

Highest number of Visitors reporting both from the developed and developing nations

Majority of the visitors have come from India (35.36%), Nigeria (3.18%), Albania (3.08%) and USA (3.08%)

The Journal received tremendous attention from the researchers in terms of visits from South Dakota, Louisiana, Colorado, Maryland and Alabama etc.

The observed percentage of new sessions recorded is 50.36%.

The average Time spent by the visitor for each session is 2.20 Minute.
Analysis on global internet users of alliedacademies.org (By Google Analytics)
A statistical analysis on global internet users of alliedacademies.org (By Google Analytics)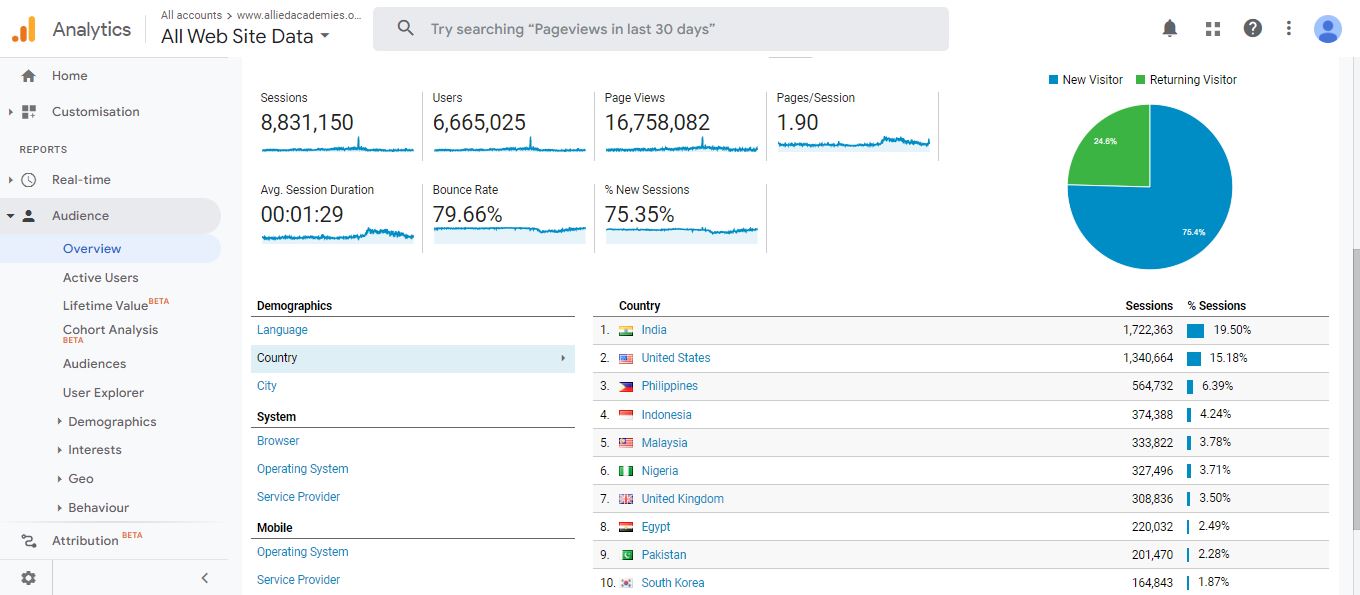 Allied Academies was established in the year 1994 and operates a journal portfolio focusing on biomedical, environment, finance and marketing subjects. The main aim is to publish original, peer-reviewed articles following internationally recognized standard editorial guidelines, publication ethics and production policies. Several authors affiliated to reputed organizations, institutions, government bodies have published their valuable contributions with Allied Academies.
This itself is the testimony to the trust and confidence gained by the publisher over several years of publishing history. The web metric has revealed that Allied Academies is highly popular among scientific associations, libraries and professional bodies. More than 2,147,577 users have accessed the publisher website with more than 6,486,1480 page views.
Web metrics of Allied Academies (By Google Analytics)
Users : 2,147,577
Page views : 6,486,148
Downloads : 76
As per the latest available Google Stats, the number of web sessions was 2,882,056 with 2.25 percent rate of new sessions. Additionally several users are also revisiting the web site indicating their sustained interest to read and publish content with Allied Academies journal. Upon considering the stats for the linked resources of Allied academies, the counts will be much higher.