Journal H-index : 2

Journal cite score : 0.30
Average acceptance to publication time (5-7 days)
Average article processing time (30-45 days) Less than 5 volumes 30 days
8 - 9 volumes 40 days
10 and more volumes 45 days
About The Journal Open Access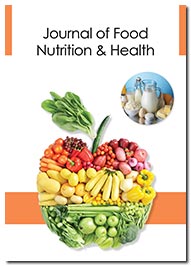 Editors-in-Chief:
Siddiqui Rafat, Associate Professor, Nutrition and Food Science Laboratory, Virginia State University, United States.
Main Indexing sites include-
Google Scholar
Publons
Food and nutrition provide energy for our bodies. We need to replace nutrients in our bodies every day. Water, Fats, proteins, and carbohydrates are important components of nutrition. A healthy diet in life promotes healthy outcomes, supports normal growth and development. It helps to maintain a healthy body weight, and reduces the risk of chronic diseases promoting overall health and well-being.
The Journal of Food Nutrition and Health is an open access journal that provides unfiltered access to articles, editorials and research papers of high quality, submitted by researchers and professors working in the field of Nutrition and Food Technology from all over the world.
Journal of Food Nutrition and Health broad scope includes Food microbiology, Food preservation, Food engineering, Biotechnology, Active packaging, Additives, Cross contamination and Enzymatic activity of Food. Journal of Food Nutrition and Health encourage papers which comes under the scope of Antioxidants, Nutrition, Basal metabolic rate, Bioavailability, Energy balance, Enzymes, and Food intolerance.
Open access allows scientific publications from different universities to be globally accessible with free of cost or other barriers. The journal accepts research papers, Mini review, image articles, editorials, case reports, short communications, etc. by professors/scholars.
Editorial tracking system has been developed to safe guard online submission of manuscripts. This system provide access to Authors, editors, Reviewers and Publishers to track the manuscript.
Upload your manuscripts to www.scholarscentral.org/submission/food-nutrition-health.html or may send the articles as an email attachment to the following mail ids [email protected] and/or [email protected]
H-index
Articles published in Journal of Food Nutrition and Health have been cited by esteemed scholars and scientists all around the world. Journal of Food Nutrition and Health has got H-index 2 , which means every article in Journal of Food Nutrition and Health has got 2 average citations.
Just Published Articles View More
Relevant Topics