About The Journal Open Access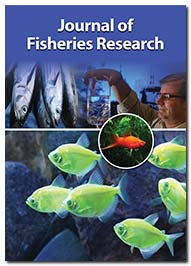 Journal of Fisheries Research is an open access scholarly journal that focuses on broad aspects of fisheries both in the wild and the farms by stressing the effective management techniques to promote the latest artifacts and technological know-how to develop safe and efficient practices.
Our Journal provides a new platform for the researchers, scientists, scholars, students in this field to publish their research work & update the latest research information to the scientific community.
Aims and Scope
The journal aims to cater to the needs of a wide range of people like policy makers, researchers, entrepreneurs engaged in the aquaculture, veterinary and nutrition specialists, dieticians, activists, academic institutions and students.
Journal of Fisheries Research thus focuses on a broad spectrum of topics including Fishing technology, Fisheries science, Fisheries management, Aquaculture, Fishery Biology, Fish farming, Water pollution, Fish Feed Technologies, Aquaculture Practices, Marine Food, Fish Production, Tropical Aquaculture and Fisheries, Marine biology, Marine biotechnology, Fishery economics, Fisheries and pollution, Fish vaccines, Fisheries medicines, and Fish genetics and genome.
All the Submitted articles are subjected to peer-review process prior to its publication to maintain the quality and the significance of the journal. The published articles are made freely and permanently accessible online immediately upon publication.
The journal constitutes its Editorial-Board comprising of scholars from all over the world that may be instrumental in offering their critical views on the latest developments in the Fisheries Research.
Journal of Fisheries Research welcomes submissions via Online Submission System
www.scholarscentral.org/submission/fisheries-research.html or you may send the article via email to the Editorial Office at [email protected]
Just Published Articles View More
Relevant Topics