Journal H-index : 3

Journal cite score : 1.13
Journal impact factor : 4.75
Average acceptance to publication time (5-7 days)
Average article processing time (30-45 days) Less than 5 volumes 30 days
8 - 9 volumes 40 days
10 and more volumes 45 days
About The Journal Open Access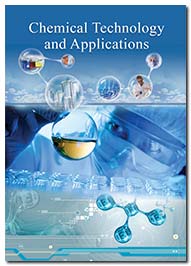 Journal of Chemical Technology and Applications is an open access scholarly journal started with a belief that innovation has no age. The journal is trying to gather handful of knowledge in the field from every corner of world by publishing insightful articles keeping-up high benchmarks of scientific excellence.

It aims to publish most comprehensive and reliable information on the discoveries and current developments in the form of research articles, commentary articles, review articles, case reports, short communications, perspectives, opinions, and letters in all areas of chemical technology, applied chemistry, biochemistry, physical science, biotechnology with applied mathematics to produce, transform, transport, and properly use chemicals, materials, and energy.
Chemical technology deals with the application of the scientific principles and technical skills for devising chemical and biochemical reactions with scale up to industrial operations. Chemical technology involves chemical principles, technical mathematics, chemical instrumentation, physical chemistry, industrial processing, operation and maintenance.
The scope of the journal includes the following topics of research: process technology, fermentation and downstream processing, catalysis and biocatalysis, chemical and biochemical engineering, monitoring and control, process control optimization, environmental remediation, separation technology, industrial chemistry, chiral amalgamation and blend of actually imperative chemicals.
Articles are published under creative commons attribution license. Abstracts and full length articles are openly available to readers soon after publication. The articles are published in both HTML and PDF formats.
The editorial board ensures a quick peer review with the use of Editorial Tracking System. It is an online manuscript submission, review and tracking system. Authors may submit manuscripts and track their progress through the system, hopefully to publication. Reviewers can download manuscripts and submit their opinions to the editor. Editors can manage the whole submission/review/revise/publication process. Atleast one reviewer approval on the scientific quality followed by editor approval is required for acceptance of any submitted manuscript for publication. The average article processing time from the time of submission is 30-45 days.
Kindly submit manuscript at https://www.scholarscentral.org/submissions/chemical-technology-applications.html or via e-mail to the Editorial Office at [email protected] and/or [email protected]
Subject experts interested in being part of Editorial/Review board of the journal may email their brief bio-graph, updated CV and recent photograph.
H-index
Articles published in Journal of Chemical Technology and Applications have been cited by esteemed scholars and scientists all around the world. Journal of Chemical Technology and Applications has got H-index 3 , which means every article in Journal of Chemical Technology and Applications has got 3 average citations.
Just Published Articles View More
Relevant Topics