Journal h-index : 6

Journal cite score : 0.42
Journal impact factor : 0.86
Average acceptance to publication time (5-7 days)
Average article processing time (30-45 days) Less than 5 volumes 30 days
8 - 9 volumes 40 days
10 and more volumes 45 days
About The Journal Open Access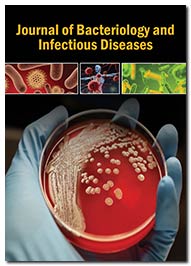 Journal of Bacteriology and Infectious Diseases is an open access, peer reviewed, scholarly journal that aims to publish original research studies that may help in understanding the pathological and clinical aspects of disease causing microbes apart from focusing on the prevention, therapy, disease management and cure.
Journal of Bacteriology and Infectious Diseases incorporates articles from all aspect of understanding related to Bacterial Ecology, Bacterial Infection, Pathogenic Bacteria, Bacterial toxins, Bacterial genomics, Bacteraemia, Salmonella, Bacterial Diseases, immunology, bacteriology, mycology, virology, parasitology, Parasitic Worms, Anthrax, Biological weapons, Clostridial infections, Leprosy, Listeriosis, etiology, pathology, and pathophysiology of the causative agents of infectious diseases.

The journal prioritizes the publication of scientific manuscripts that serve to provide insights into hitherto unexplored realms of clinical microbiology and infectious diseases such as, development of multi-drug-resistance (MDR), development of novel vaccines and antibiotics to counter-act the effects of MDR, multiplicity of infection and disease diffusion mapping.

The journal also publishes manuscripts that contain novel discoveries on the ecology, biochemistry and genetics of pathogenic bacteria, viruses, fungus and other infectious parasites. Contemporary findings pertaining to the development of highly advanced diagnostic and therapeutic methods against infectious diseases viz. malaria, influenza, tuberculosis, leprosy, whooping cough, polio, Hepatitis-A, HIV/AIDS, etc. are solicited.

The journal strictly adheres to a single blind peer-review to maintain the quality and originality of the published articles.

The journal is using Editorial Tracking System for quality in review process. Editorial Tracking is an online manuscript submission, review and tracking systems. Review processing is performed by the editorial board members of Bacteriology and Infectious Diseases or outside experts; at least two independent reviewers approval followed by editor approval is required for acceptance of any citable manuscript. Authors may submit manuscripts and track their progress through the system, hopefully to publication. Reviewers can download manuscripts and submit their opinions to the editor. Editors can manage the whole submission/review/revise/publish process.

You may submit manuscripts through online manuscript submission system or as an email attachement at: bacteriology@scholarlypub.org and bacteriology@scienceresearchpub.org
h-index
Articles published in Journal of Bacteriology and Infectious Diseases have been cited by esteemed scholars and scientists all around the world. Journal of Bacteriology and Infectious Diseases has got h-index 6 , which means every article in Journal of Bacteriology and Infectious Diseases has got 6 average citations.
Just Published Articles View More
Relevant Topics