Average acceptance to publication time (5-7 days)
Average article processing time (30-45 days) Less than 5 volumes 30 days
8 - 9 volumes 40 days
10 and more volumes 45 days
About The Journal Open Access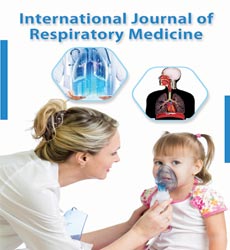 International Journal of Respiratory Medicine is a newly launched journal which will be dedicated to advance the science and practice of respiratory medicine and related topics of research through the rapid publication of high-quality original research, systematic reviews, meta-analysis and technology reports, perspectives on all disciplines and therapeutic areas within the specialty.
International Journal of Respiratory Medicine is directed to Pulmonologists and others involved in research and practice of pulmonology and respiratory diseases and related medication. It features original research, review articles, clinical cases, perspective, commentary and others which include every fact of the respiratory system to find better ways to treat illnesses and conditions that originate in the respiratory system, lungs and larynx, diaphragm etc. In addition, it provides a forum for the exchange of information on all aspects of respiratory and lungs, including educational issues.
The mission of International Journal of Respiratory Medicine is to provide readers with a broad spectrum of themes in clinical respiration, including the diagnostic, bronchic, lung related and therapeutic advances in cancer, respiratory diseases and functional pulmonological disorders. The principal criterion for publication is potential impact on patient care.
Aims and Scope
International Journal of Respiratory Medicine is an open access journal designed for the wide dissemination of research in this field to worldwide audience. New developments in methodology and techniques are important resources for the research community.
With an emphasis on conceptual breakthroughs, its goal is to facilitate rapid publication and circulation of novel discoveries in the field of inflammatory and restrictive lung diseases and other aspects relevant to respiratory tract infections that affect the delivery of care of patients with respiratory diseases.
International Journal of Respiratory Medicine scope encompasses the knowledge in medical research of the respiratory system such as nose, pharynx, larynx,traches, bronchi, lung diseases etc. also it focusses on various cancers related to respiratory organs and also the infections for the same. Pleural cavity disease and Pulmonary vascular disease also cover the major spectrum of the journal.
Author may submit manuscripts online at https://www.scholarscentral.org/submissions/international-respiratory-medicine.html or send as an E-mail attachment to respiratorymed@scientificres.org and respiratorymed@eclinmed.com
Individuals interested in becoming members of the Editorial/Review Board should contact by email.
Just Published Articles View More
Relevant Topics