Past Conference Report - Microbiology: Current Research (2019) Volume 3, Issue 4
2nd Global Congress on Bacteriology and Infectious Diseases Bangkok
Giulio tarro
Research Associate, Division of Virology and Cancer Research, Childrens Hospital, Naples University (1962), Italy, E-mail: [email protected]
About the Conference:
It is a great pleasure and an honor to extend our warm invitation to attend the "2nd Global Congress on Bacteriology and Infectious Diseases", on June 12-13, 2019 in Bangkok, Thailand which includes prompt keynote presentations, oral talks, poster presentations and exhibitions. This conference brings together individuals who are interested in fields of infectious diseases, bacteriology, microbiology and approaching towards the conference gives the best platform to explore the ideas and issues concerned to relevant topic and generate solutions. This unites all the participants from across the globe. It is a platform to share their experience and their ideas for research work results to implement in further research work. We welcome you to our site to join us. At this site, you can learn about membership in the society, the society journal, our newsletter, and conferences.
Why to attend??
Infection Diseases Conferences 2019 is a unique opportunity to discuss the best practices within laboratory research and those in other industries, people are doing related things getting a variety of viewpoints can help us see where we can change or improve our own ideas and processes. There will be many seminars, workshops and technical sessions take place which will catch the attention of the professionals to attend the conference and it would extremely enrich our knowledge in interpreting the current demand of the global pharmaceutical industry. The skillful will get an excellent opportunity to give many presentations and lectures on the different topic and will also present their case studies.
Allied Academies has taken the grand privilege of felicitating Infectious Diseases Congress 2019 Organizing Committee, Editorial Board Members and Keynote Speakers who supported the success of this event.
The conference was initiated with the opening ceremony followed by the presentations of the Keynote speakers. They are as follows:
• "Developing Novel Technologies & Treatment to Cure Infectious Diseases", Ashwini Bhalerao, India.
• "Kala-azar elimination programme in South-East Asia region", Sujit K Bhattacharya, India.
• "Convergence and integration of life sciences and engineering-infectious diseases", Desineni Subbaram Naidu, USA.
Supporting Journals :
• Journal of Bacteriology and Infectious Diseases.
• Journal of Infectious Diseases and Medical Microbiology.
• Journal of Pathology and Disease Biology
Market Analysis:
Current Trends in clinical Microbiology towards Improvement:
Clinical Microbiology is advancing at a speed that is considerably higher than it used to be in the earlier century. As an outcome, the accessibility of experienced research facility workforce is turning into a basic issue and albeit appropriately prepared specialists are uncommon, there is a reasonable need to adjust their preparation to meet the demonstrative desires. Current improvements in clinical microbiology, somehow, target research centre robotization, abnormal state data age and decreasing the general time to aftereffects of recognition, ID, and AST of microscopic organisms, yeasts and shape when all is said in done. Auxiliary patterns are identified with availability (between computerized frameworks, amongst frameworks and the research facility or healing centre data frameworks (LIS, HIS) and between the clinical microbiologist and the doctor), post-viability, quality administrations and clinical data content (how to convey the most helpful microbiological data as fast as conceivable to clinicians). As mechanical advancements, imaging, mass spectrometry (MS) and sequencing are at the centre of demonstrative R&D thus too are conceivable enhancements in the speed, precision, openness and clinical relationship of AST comes about. Beneath, a determination of such advancements will be tended to in more detail.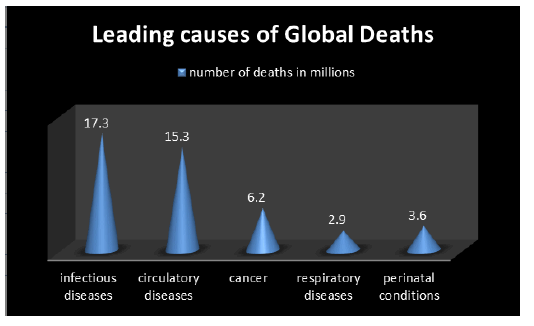 Leading causes of death from infectious diseases were acute lower respiratory infections (3.7million), tuberculosis (2.9 million), diarrhoea (2.5 million), HIV/AIDS (2.3 million) and malaria (1.5-2.7 million). Most deaths from circulatory diseases were coronary heart disease (7.2 million), cerebrovascular disease (4.6 million), and other.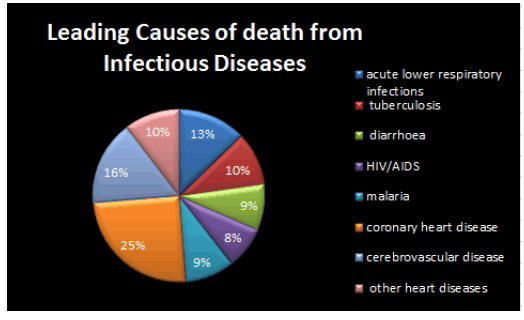 Ref:
Hiroshi Ohrui, Japan - EFdA: An extremely excellent anti-HIV modified nucleoside, -from design to the current clinical trial results.
Rachel Chen | Program Manager
Virology Congress 2020