Journal h-index : 6

Journal cite score : 0.56
Journal impact factor : 0.50
Average acceptance to publication time (5-7 days)
Average article processing time (30-45 days) Less than 5 volumes 30 days
8 - 9 volumes 40 days
10 and more volumes 45 days
About The Journal ISSN: 2591-7951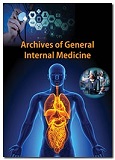 Archives of General Internal Medicine is an International online open access Journal dedicated to function as a comprehensive reference resource for Internal Medicine professionals, physicians, students and medical interns all across the world. The Journal encourages scientific documentation of latest research and promulgation of new insights to cater for the growing information needs of the medical community and to ensure data availability to new practitioners in the field of medicine.

The Journal serves the physicians, pathologists, pharmacologist and students that are involved in research and practice of general internal medicine and focuses on providing latest information on novel findings in the field of immunology, endocrinology, nephrology, pulmonology, cardiology, anesthesiology, gynecology, neurology, and cardiology. The Journal invites a wide range of manuscripts such as original research, review, case-report, editorial, short-communication, opinion, letter to the editor and commentaries on research developments pertaining to the pathophysiology of infectious diseases as well as those relevant to screening, diagnosis, prevention, prognosis and treatment of diseases such as asthma, allergy and other chronic degenerative diseases. Submissions for this Journal are accepted from all practitioners, interns and students of Internal medicine.

Fast Editorial Execution and Review Process (FEE-Review Process):
Archives of General Internal Medicine is participating in the Fast Editorial Execution and Review Process (FEE-Review Process) with an additional prepayment of $99 apart from the regular article processing fee. Fast Editorial Execution and Review Process is a special service for the article that enables it to get a faster response in the pre-review stage from the handling editor as well as a review from the reviewer. An author can get a faster response of pre-review maximum in 3 days since submission, and a review process by the reviewer maximum in 5 days, followed by revision/publication in 2 days. If the article gets notified for revision by the handling editor, then it will take another 5 days for external review by the previous reviewer or alternative reviewer.
Acceptance of manuscripts is driven entirely by handling editorial team considerations and independent peer-review, ensuring the highest standards are maintained no matter the route to regular peer-reviewed publication or a fast editorial review process. The handling editor and the article contributor are responsible for adhering to scientific standards. The article FEE-Review process of $99 will not be refunded even if the article is rejected or withdrawn for publication.
h-index
Articles published in Archives of General Internal Medicine have been cited by esteemed scholars and scientists all around the world. Archives of General Internal Medicine has got h-index 6 , which means every article in Archives of General Internal Medicine has got 6 average citations.
Just Published Articles View More
Relevant Topics