About The Journal Open Access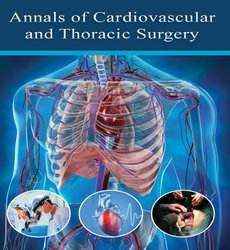 The Annals of Cardiovascular and Thoracic Surgery journal is an open access journal that considers for publication of articles in all fields of cardiovascular research. The thrust area of cardiovascular research includes etiology, pathophysiology, epidemiology, diagnostics and therapeutic approaches of heart diseases and injuries, congenital heart defects, and coronary artery diseases.
Aims and Scope
Annals of Cardiovascular and Thoracic Surgery aims to publish new developments in non-invasive and invasive diagnostic methods, pharmacologic, nutritional and mechanical/surgical therapies to cure the heart disorders in the form of clinical reports, case studies, review articles, research articles, Editorials, short communications and scientific correspondences.

The journal focusses on the publication of scientific advancements pertaining to the development of more potent drugs, diagnostic techniques, valve therapy, stem cell therapy and other therapeutic approaches for the treatment of high risk patients of cardiac diseases. The journal encompasses current research on interventional cardiology, neurology, cardiac imaging, heart failure, stem cell therapy, heart surgery, thorax surgery, cardiomyopathy, valvular heart diseases, valvuloplasty, angioplasty and pharmacological and non-pharmacological treatment of cardiac diseases, etc.
The Journal is using Editorial Manager System for easy online tracking and managing of the manuscript processing. Each article undergoes a peer-review process under the aegis of an assigned Editor.
You may submit manuscripts online at https://www.scholarscentral.org/submissions/annals-cardiovascular-thoracic-surgery.html or You may submit manuscripts as an email attachment to us [email protected].
Just Published Articles
Ann Cardiovasc Thorac Surg: 3(1): 1-1
Editor
DOI:
Relevant Topics