Journal H-index : 2

Journal cite score : 0.46
Journal impact factor : 0.54
Average acceptance to publication time (5-7 days)
Average article processing time (30-45 days) Less than 5 volumes 30 days
8 - 9 volumes 40 days
10 and more volumes 45 days
About The Journal Open Access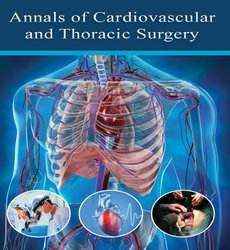 The Annals of Cardiovascular and Thoracic Surgery journal is an open access journal that considers for publication of articles in all fields of cardiovascular research. The thrust area of cardiovascular research includes etiology, pathophysiology, epidemiology, diagnostics and therapeutic approaches of heart diseases and injuries, congenital heart defects, and coronary artery diseases.
The Journal publishes articles in the form of clinical reports, case studies, review articles, research articles, Editorials, Short communications scientific correspondences, Image Articles, Abstracts, commentary articles.
The journal encompasses current research on interventional cardiology, neurology, cardiac imaging, heart failure, stem cell therapy, heart surgery, thorax surgery, cardiomyopathy, valvular heart diseases, valvuloplasty, angioplasty and pharmacological and non-pharmacological treatment of cardiac diseases, etc. The Journal is using Editorial Tracking System for easy online tracking and managing of the manuscript processing. Each article undergoes a peer-review process under the aegis of an assigned Editor.
You may submit manuscripts Online or You may submit manuscripts as an email attachment to us [email protected] .
H-index
Articles published in Annals of Cardiovascular and Thoracic Surgery have been cited by esteemed scholars and scientists all around the world. Annals of Cardiovascular and Thoracic Surgery has got H-index 2 , which means every article in Annals of Cardiovascular and Thoracic Surgery has got 2 average citations.
Just Published Articles View More
Relevant Topics