Average acceptance to publication time (5-7 days)
Average article processing time (30-45 days) Less than 5 volumes 30 days
8 - 9 volumes 40 days
10 and more volumes 45 days
About The Journal Open Access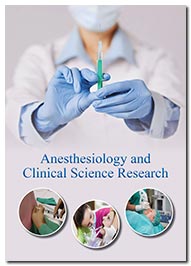 Editor in Cheif:
Jun Nagata, Assistant Professor, Department of Surgery, Wakamatu Hospital of University of Occupational and Environmental Health, Japan
Anesthesiology and Clinical Science Research Journal leads the world in publishing and disseminating the highest quality work to inform daily clinical practice and transform the practice of medicine in the specialty. Anesthesiology and Clinical Science Research publishes a wide range of articles in the discipline of anesthesiology including basic science, translational medicine, education, and clinical research to develop a unique platform for the authors and to encourage their contribution towards the field without any barriers of subscription.
Anesthesiology and Clinical Science Research Journal publishes high-impact original work in all branches of Anesthesia, Critical Care Medicine, Translational and Clinical Sciences, Clinical Practice, and Technology, Intensive Care, Emergency Medicine, Pain Management.
This journal publishes Research Articles, Review Articles, Mini Review, Perspective, Opinion, Image Articles, Case Reports, Short Communications, and Letters to the editor.
The journal follows a double blinded peer review process where the reliable source of current information on developments in the field. The emphasis is placed on publishing quality original papers rapidly, that are available to researchers worldwide. The Journal encourages scientific documentation of latest research and promulgation of new insights to cater for the growing information needs of the medical community and to ensure data availability to new practitioners in the field of Anesthesia.
Just Published Articles
Relevant Topics