About The Journal ISSN: 2591-7951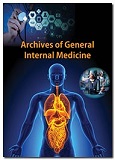 Editors-in-Chief:
Samuel N. Forjuoh, Professor of Family & Community Medicine and Health Promotion & Community Health Sciences at Texas, USA
Main Indexing sites include-
China National Knowledge Infrastructure(CNKI Scholar)
Secret Search Engine Labs
Cite Factor
Archives of General Internal Medicine, is a peer reviewed scholarly journal that aims for wide dispersal of research advancements regarding the science and practice of internal medicine. The journal aims at the furtherance of biomedical research through the rapid publication of high-quality original research articles, systematic reviews, meta-analyses and technology reports, perspectives on current developments in the field of diagnosis and treatment of diseases prevalent in adults. The journal also publishes manuscripts on research developments pertaining to the pathophysiology of infectious diseases as well as the treatment and management of diseases and physiological conditions such as allergy, asthma and obesity.

The journal is directed to physicians, pathologists, pharmacologist and students that are involved in research and practice of general internal medicine. The journal provides information on novel findings in the field of immunology, endocrinology, gastroenterology, nephrology, pulmonology, cardiology, anesthesiology, gynecology, neurology, psychiatry and radiology.

Aims and Scope

Archives of General Internal Medicine encompass diagnosis and therapeutic approaches of adolescent medicine, critical care medicine, sleep medicine, sports medicine, plastic surgery, addiction medicine and preventive medicine. Manuscripts showcasing recent developments inmodern treatment practices including dialysis, bronchoscopy, angioplasty, cardioversion, cardiac ablation, intra-aortic balloon pump and nuclear radiology are solicited. The principal criterion for publication is potential impact on patient care.

The Journal is using Editorial Manager System for online submission of manuscripts, tracking and management of the manuscript processing. All the submitted manuscripts undergo a peer review process under the aegis of an assigned Editor prior to acceptance and publication. To be acceptable for publication, an article should be positively considered by two individual reviewers followed by the Editor's consent.

You may submit manuscripts online at http://www.editorialmanager.com/openaccessjournals/

Individuals interested in becoming members of the Editorial Review Board should contact by below email.
Just Published Articles