Average acceptance to publication time (5-7 days)
Average article processing time (30-45 days) Less than 5 volumes 30 days
8 - 9 volumes 40 days
10 and more volumes 45 days
About The Journal ISSN: 2591-7978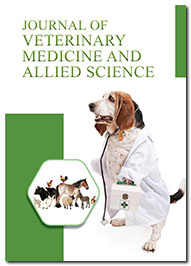 Veterinary Medicine is the branch of medical science concerned with the diagnosis, treatment and prevention of diseases in animals. Journal of Veterinary Medicine and Allied Science (VMAS), publishes a wide range of scientific articles related to, Veterinary Anesthesiology, Behavior,Cardiology, Dentistry, Comparative medicine, Epidemiology, Ophthalmology,Pharmacology, Pathology, Toxicology, Oncology, Neurology, Clinical trials etc., of both wild and domesticated animals. All the topics incidental to Veterinary Medicine are invited.
Aims and Scope
The main aim of the Journal of Veterinary Medicine and Allied Science is to publish the most advanced research and discoveries with current developments in the form of original research articles, review articles, case reports, short communications, commentaries, images, video articles, etc. in all areas of the Veterinary Medicine.
The Journal scope encompasses the knowledge in veterinary medicine research of the such as veterinary care, animal imports and exports, critical care, veterinary anesthesiology, surgery and radiology, clinical care, diagnostics, genetic monitoring, health surveillance etc.
The Journal is using Editorial Manager System for online manuscript submission, review and tracking. Editorial board members and experts in specialized subjects/aspects review the manuscripts which will enhance the quality of the research content.
You may submit manuscripts online at https://www.scholarscentral.org/submissions/veterinary-medicine-allied-science.html or email to [email protected] and/or [email protected]
Just Published Articles View More
Relevant Topics