Average acceptance to publication time (5-7 days)
Average article processing time (30-45 days) Less than 5 volumes 30 days
8 - 9 volumes 40 days
10 and more volumes 45 days
About The Journal ISSN: 2591-7978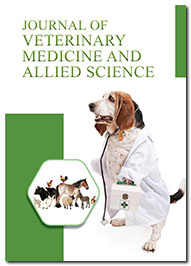 Journal of Veterinary Medicine and Allied Science is a peer-reviewed open access journal that publishes wide range of scientific articles focusing on diverse aspects of Veterinary Science, particularly concerned with the diagnosis, treatment and prevention of diseases in animals.
The purpose of the journal is to advance veterinary medical knowledge and improve the health of animals by publishing high quality research articles, review articles, case reports, short communications, commentaries, in all areas of the Veterinary Medicine. Papers related to Veterinary Anaesthesiology, Animal Behaviour, Surgery, Radiology, Genetic Monitoring, Health Surveillance, Clinical Care, Cardiology, Dentistry, Comparative Medicine, Epidemiology, Ophthalmology, Pharmacology, Pathology, Toxicology, Oncology, Neurology, Clinical Trials etc., of both wild and domesticated animals are invited.
All articles published by Journal of Veterinary Medicine and Allied Science are made freely and permanently accessible online to readers after publication, without any subscription charges. New manuscripts are initially screened for plagiarism, redundant publication, formatting etc. and are then subjected to single-blind peer review by an expert in the field to check the quality of the research content. After that, decisions regarding publication are made by the editor. The Journal is using Editorial Tracking System for easy online manuscript submission, review and tracking.
The average processing time of an article from submission until publication is 30-45 days. All published articles of this journal are included in the indexing and abstracting coverage of Secret Search Engine Labs, Scientific Literature (SciLit) and China National Knowledge Infrastructure (CNKI).
Authors are welcomed to submit their latest unpublished work via online at www.scholarscentral.org/submissions/veterinary-medicine-allied-science.html or through email to [email protected] and/or [email protected]
If you are interested to join as Reviewer, Editorial board member, please contact us at above e-mail.
Just Published Articles View More
Relevant Topics