About The Journal Open Access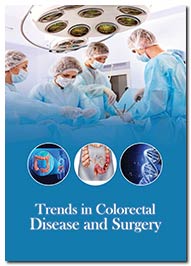 "Trends in Colorectal Disease and Surgery" is a peer reviewed scholarly journal that focuses on the dissemination of research developments in the field of detection, prevention, surgery and therapy of colorectal diseases. The journal provides a platform for the exchange of medical and scientific information between researchers, scientists and medical personnel working on the diagnosis, invasive and non-invasive treatment of colorectal diseases.

The journal publishes findings in the field of colon and rectal surgery, anatomic and clinical pathology and colorectal pathology. The Journal welcomes manuscripts elucidating the cellular and molecular mechanism involved in the pathogenesis of colorectal diseases including colorectal cancer, ulcerative colitis, Crohn's disease, irritable bowel syndrome, haemorrhoids, anal fissure, bowel incontinence, fecal incontinence, rectal prolapse, hereditary polyposis, colitis, diverticulitis and other diverticular diseases. Articles highlighting the clinical efficacy of advanced therapeutic methods encompassing the surgical, chemotherapeutic and radio-therapeutic methods of treatment of colorectal diseases are solicited.
You may send the article as an email attachment to the following mail-id: [email protected]
Relevant Topics