Journal H-index : 2

Journal cite score : 0.15
Journal impact factor : 0.32
Average acceptance to publication time (5-7 days)
Average article processing time (30-45 days) Less than 5 volumes 30 days
8 - 9 volumes 40 days
10 and more volumes 45 days
About The Journal ISSN: 2591-7358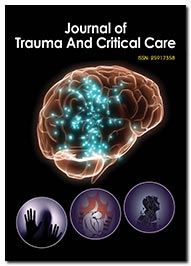 Trauma and critical care is an important aspect of medical treatment. Immense care, attention, accurate decision making skills is required in such conditions. Journal of Trauma and Critical Care would like to serve the research and academic community dealing with critical medical issues involving trauma, critical care and emergency medicine.This is a peer reviewed open access journal dedicated to disseminate valuable scientific information in relation to the above mentioned subject category. Articles from the elite academic community contributing novel information are welcome in the form of a research, review articles, case reports, short communication, Editorial etc.
Aims and Scope
The journal scope encompasses several important topics including but not limited to injuries, Acute pain management, emergency in Neurological, Acute cardiology, respiratory failure, Critical care, Injury prevention and wound healing, Surgical emergency, Acute infection, Toxicology, Hematology/oncology, critical response therapy, Emergency medicine, Resuscitation, Pediatric emergency, dealing with critical patients, Patient safety, different types of Wounds, technologies involved in treatment and patient care at critical stage etc.

For the benefit of tracking manuscript in an organized way and fast peer review process the journal is using Editorial Manager System. All the articles received will be subjected for peer review process under the Editor-in-Chief or Editorial board member. Opinion of two independent reviewers is mandatory before taking any decision on any article towards publication. However, at any situation, decision of Editor-in-Chief will be final. Authors may submit their manuscripts through the provided manuscript submission link or through E-mail. Only electronic submission will be considered for further process.
You may submit your manuscript at https://www.scholarscentral.org/submissions/trauma-critical-care.html or as an attachment to [email protected] and/or [email protected]
H-index
Articles published in Journal of Trauma and Critical Care have been cited by esteemed scholars and scientists all around the world. Journal of Trauma and Critical Care has got H-index 2 , which means every article in Journal of Trauma and Critical Care has got 2 average citations.
Just Published Articles View More
Relevant Topics