Average acceptance to publication time (5-7 days)
Average article processing time (30-45 days) Less than 5 volumes 30 days
8 - 9 volumes 40 days
10 and more volumes 45 days
About The Journal Open Access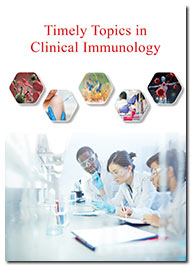 Timely Topics in Clinical Immunology is an international scholarly peer-reviewed journal that publishes latest developments relating to novel approaches in all aspects of Clinical Immunology from and for medical practitioners and academic professionals.
The aim of the journal is to publish scientific manuscripts that directly or indirectly contribute to the betterment of healthcare practices. The journal focuses on the study of the immune system in all organisms including pathophysiology and physiology in health, genetic discovery, immune modulation and dysfunction, immunodeficiencies and related disorders.
It aims to explore applications in Clinical and cellular Immunology such as Autoimmunity, Allergy & Immunology, Adaptive Immunity, Biotechnology, Cancer Immunology, Clinical Laboratory Immunology, Cellular & Molecular Immunology, Clinical Experimental Immunology, Diagnostic Immunology, HIV Immunology, Immunodermatology, Immunohematology, Immunotoxicology, Immunomodulation, Innate Immunology, Infection and Immunity, Inflammatory Disorders, Mucosal Immunity, Medical Immunology, Macrophage Polarization, Multiple Sclerosis, Neuroimmunology, Primary Immunodeficiency, Systemic Lupus Erythmatosus, T-cell Immunology, Transplantation Immunology, Tumor Immunology, Vaccines etc.
The journal also publishes articles on basic, translational, and clinical studies including relevant animal models and case reports of general significance.
The journal accepts manuscripts in the form of research articles, review articles, case reports, short communications, letters to editor and commentaries. All submissions are to be made online through the journal's editorial manager system. All the submitted articles undergo a strict peer review process. The acceptance/rejection/revision of the articles is based on the comments provided by the subject matter experts/reviewers.
Relevant Topics