Average acceptance to publication time (5-7 days)
Average article processing time (30-45 days) Less than 5 volumes 30 days
8 - 9 volumes 40 days
10 and more volumes 45 days
About The Journal ISSN: 2591-7986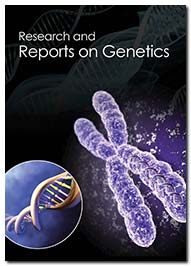 Research and Reports on Genetics addresses all aspects of genetics and fundamental understanding of Genome and Genetic engineering, through the rapid publication of high-quality original research, systematic reviews, meta-analyses and technology reports, commentaries, perspectives from the eminent researchers all over the world.
The Objective of the Journal is to provide the readers with the novel information and latest advances in the field of Genetics. It aims to act as a forum for publication, education, and exchange of opinions, and to promote research and serve the scientific world.
Aims and Scope
Journal covers the areas like Genetic Engineering, Genomics, Medical genetics, Epigenetics, Population genetics, Mendelian Inheritance, Selective breeding, Classical genetics, Alleles, Genotype & Phenotype studies, Genetic linkage, Recombination, Mutational analysis, DNA Sequencing, Evolution, Epistatis, Gene interactions, Genetic diseases, Gene regulation, Gene silencing studies, Gene cloning, Gene therapy.
Research and Reports on Genetics is an open access journal that specifies the recent advancements in the research at the genome level. The Journal scope encompasses the knowledge in medical research of the topics related to Genetic polymorphisms of biologically important genes, Gene cloning and mapping, Human genome analysis etc.
The Journal is using Editorial Tracking System for easy online tracking and managing of the manuscript processing. Each article undergoes a peer-review process under the aegis of an assigned Editor. To be acceptable for publication, an article should be positively considered by two individual reviewers followed by the Editor's consent.
You may submit manuscripts online at https://www.scholarscentral.org/submissions/research-reports-genetics.html or send as an E-mail attachment to [email protected] and [email protected]
Individuals interested in becoming members of the Editorial Review Board should contact by the below e-mail.
Just Published Articles View More
Relevant Topics