Journal h-index : 2

Journal cite score : 0.02
Journal impact factor : 0.02
Average acceptance to publication time (5-7 days)
Average article processing time (30-45 days) Less than 5 volumes 30 days
8 - 9 volumes 40 days
10 and more volumes 45 days
About The Journal Open Access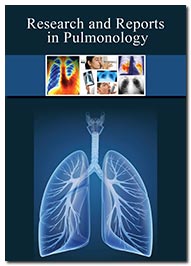 Research and Reports in pulmonology is an open access, peer-reviewed journal that considers articles relating to all aspects of pulmonary research and its therapeutic care. The journal provides an all-inclusive overview of the fundamental and translational aspects of pulmonology.
Research and Reports in pulmonology dispense a new foundation for the researchers, physicians, scholars to share their valuable and authentic articles in this field and update the current research information to the scientific audience.
The scope of the journal covers basic and clinical research in all the areas of the pulmonary and its associated disorders. It encourages original research, reviews, concise communications and case reports related to the epidemiology and pathophysiology studies, as well as its diagnosis, prevention and management.
All the submissions to the journal are subjected to the rigorous peer-review process whilst maintaining the quality and significance of the journal.
Kindly submit your manuscript online at www.scholarscentral.org/submissions/research-reports-pulmonology.html or as an email attachment to pulmonologyres@emedsci.com/pulmonology@medicalsci.org
Individuals interested in becoming members of the Editorial/Review Board should contact by email.
h-index
Articles published in Research and Reports in Pulmonology have been cited by esteemed scholars and scientists all around the world. Research and Reports in Pulmonology has got h-index 2 , which means every article in Research and Reports in Pulmonology has got 2 average citations.
Just Published Articles View More
Relevant Topics