Average acceptance to publication time (5-7 days)
Average article processing time (30-45 days) Less than 5 volumes 30 days
8 - 9 volumes 40 days
10 and more volumes 45 days
About The Journal Open Access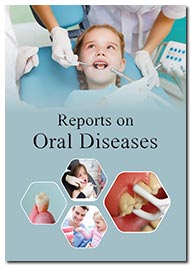 Reports on Oral diseases is an open access international medical journal published by Allied Academics that considers scholarly articles related to the management of disorders related to mouth, gums, and teeth and the their pathophysiology including molecular genetics associated with them.

The journal also publish articles related to all the aspects of oral diseases and health such as Oral Health, Oral Biomechanics, Oral Mucosal Diseases, cariology, oral and maxillofacial oncology, Implant Biomechanics, General Dentistry, Pediatric Dentistry, Dental Anesthesia, Dental Pulp Stem Cells and Replacement Therapy, Clinical Dentistry, Odontology, Digital Dentistry, Operative Dentistry, Orthodontics, Restorative Dentistry, Periodontol Diseases, etc.

The journal publishes research articles, reviews, case reports, commentaries, communications etc., in all the fields of oral health and diseases. The journal maintains high standards of publication ethics and follows strict review process. The articles get published only after the acceptance from reviewers or editorial board members.
Aims and Scope
Reports on Oral diseases is an open access journal designed for the wide dissemination of research in this field. New developments in methodology and techniques are important resources for the research community.
The main goal of the journal is to act as a forum for publication, education, and exchange of opinions, and to promote research and publications globally and to facilitate rapid publication and circulation of novel discoveries in the field of Oral diseases.
The journal scope encompasses the knowledge in oral research of the topics related to Oral Diseases, Gum Disease, Gingivitis, Cavities, Oral Cancer, oral health, root cavities, oral infections, oral cancer, dentist, dental problems, dental exam, decayed teeth, periodontal pockets, root canals, fillings, crowns, temporomandibular joint, medical history, dental x-rays, dental cavities, periodontal (gum) disease, Dental cavities, Oro-dental trauma, Noma, Fluoride, oral hygiene practices, Dental Emergencies, Safe Dental Care, Tooth wear (dental erosion, attrition and abrasion), Dry mouth, Mouth ulcers, Cold sores, Tooth sensitivity, Halitosis (bad breath).
You may send the article as an email attachment to the following Email id: oraldiseases@alliedresearch.org
Relevant Topics