Journal h-index : 6

Journal cite score : 1.45
Journal impact factor : 0.94
Average acceptance to publication time (5-7 days)
Average article processing time (30-45 days) Less than 5 volumes 30 days
8 - 9 volumes 40 days
10 and more volumes 45 days
About The Journal ISSN- 2591 -7846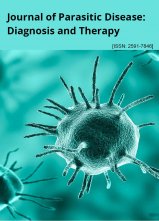 Journal of Parasitic Diseases: Diagnosis and Therapy is a peer-reviewed, open access journal dedicated to advancing the science and practice of parasitic diseases. The Journal welcomes original research, systematic reviews, meta-analyses and technology reports, covering progress in the newer dimensions of the discipline. Studies dealing with public health, epidemiology, patient care, management, and education are also encouraged. It also provides a forum for the exchange of information on all aspects of gastrointestinal and liver, including educational issues.
Aims and Scope The aim of Journal of Parasitic Disease: Diagnosis and Therapy is to provide readers with a broad spectrum of themes in clinical parasitic disease including diagnostic, endoscopic, interventional and therapeutic advances in cancer, inflammatory diseases, and functional gastrointestinal disorders. With an emphasis on conceptual breakthroughs, its goal is to facilitate rapid publication and circulation of novel discoveries in the field of esophageal, gastric, intestinal, colonic, hepatic and pancreatic diseases.
The journal scope encompasses the knowledge in medical research of the parasitic diseases resulting from endoparasites, tapeworms, flukes, roundworms, helminthes organisms, ectoparasites, tapeworms, fleas, mites, lice, intestinal worms, coccidian, giardia etc.
Kindly submit manuscripts at Online Submission or send full length article as an E-mail attachement to: parasiticdiagnosis@medicalres.org and parasitictherapy@journalres.com
Professional researchers or academicians with significant scientific contributions are welcome to join the Editorial Board by sending their Curriculum Vitae (CV) along with brief biography to parasitictherapy@journalres.com
h-index
Articles published in Journal of Parasitic Diseases: Diagnosis and Therapy have been cited by esteemed scholars and scientists all around the world. Journal of Parasitic Diseases: Diagnosis and Therapy has got h-index 6 , which means every article in Journal of Parasitic Diseases: Diagnosis and Therapy has got 6 average citations.
Just Published Articles View More
Relevant Topics