Allied Academies News Number 9 - Fall 2001
Despite the terrible events of September 11, the Las Vegas Conference was a success. Though it was slightly smaller than the Nashville conference (our largest ever), we still had participants fly in from as far away as the United Arab Emirates. Many authors who were a bit uneasy about flying took advantage of the Internet Division and were able to participate without traveling to the conference. We would like to extend our heartfelt appreciation to all who participated. It is the authors and the conference participants who make the Allied Academies successful and who support our efforts to achieve our mission.
NEW Submission Procedures
As a result of your comments and our continued efforts to improve upon our efficiency, we have instituted new submission procedures that we think will be more helpful to participants and increase our ability to process submissions more efficiently. We are moving toward an online system that will allow us to provide the highest level of service possible to our members. Please take a moment to familiarize yourself with the Submission Instructions.
We have also updated our Publication Guidelines with more detailed preparation instructions. We hope that the new guidelines will enable us to process papers more quickly, thereby enabling us to maintain our short deadline periods. Please take a moment to familiarize yourself with the Publication Guidelines.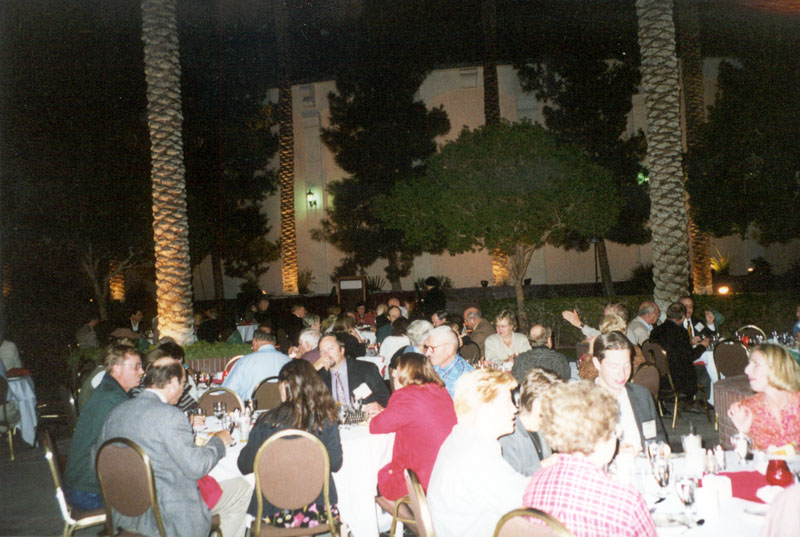 NEW Academy
We would also like to welcome the addition of a new Academy:
Academy for Business Ethics - Dr. Aileen Smith, Editor
We would also like to welcome Dr. Reagan McLaurin from the American University of Sharjah. He is the new Editor of the International Journal of Entrepreneurship.
For more information about our affiliate Academies and the types of manuscripts they publish, please visit our Affiliate Academies page.
Spring Conference in Nashville
Our Spring 2002 International conference will be held in Nashville at the Embassy Suites hotel. Nashville was host to the single largest conference in Allied Academies' history, and we expect this to be another great conference. We hope that all of our members will be able to participate, either by attending or via the Internet Division. See our Submission Instructions page for information on submitting. We hope to see you all there!
Summer Internet Conference
Due to the continued popularity of the Internet Division, we will have our fourth International Summer in July 2002. It will be the same as a physical conference in every way, with the exception of having to travel. Participants can submit their papers for award consideration and the winners will be published in the appropriate Journal. There will be a conference Proceedings published on-line as well as on CD, and a conference Program published both in hard copy and on-line. A bulletin board will be live on the web site where participants can post comments and questions regarding the papers published in the Proceedings. All participants can also submit video taped or Power Point presentations to be published on our web site as a companion to their paper. The Internet conference will run for two weeks giving all of the participants plenty of time to participate as their schedules and time zones allow (no strict schedule will be required). See our Submission Instructions page for information on submitting.
Journals
The new issues of the Journals will be going to press this December. We will also be publishing them on-line. We are continuing to add more back issues to our web site and hope to have all of the Journals available on-line before the Nashville conference.
Innovative and Creative Teaching Awards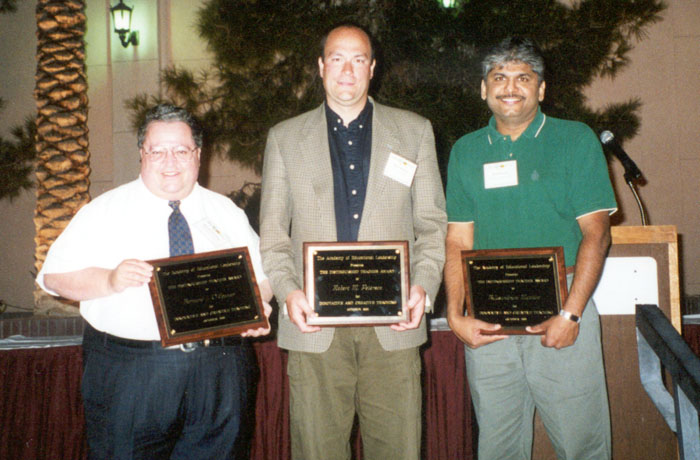 The fourth award given by the Academy of Educational Leadership to an individual for INNOVATIVE AND CREATIVE TEACHING went to three recipients this year. Bernard J. O'Connor, Eastern Michigan University; Robert M. Peterson, University of Portland ; and Balasundram Maniam, Sam Houston State University all received plaques. The criteria for recognition include the exercise of creative or innovative teaching practices; and, recognized stature as an outstanding instructor.
Research Awards
We would like to congratulate the Distinguished Research Award Winners for Las Vegas, 2001. The competition was extremely rigorous and intense. After extensive review, the panel of judges awarded distinguished research status to less than 20% of the manuscripts. The authors of the following works received engraved plaques, and the manuscripts will be published in the next regularly scheduled issue of the appropriate journal.
Because the volume of high quality research was so high, the Awards Committee decided to identify a number of manuscripts for honorable mention status. Authors of manuscripts awarded this distinction were recognized with a medallion and a certificate to mark their achievement and the manuscripts will be published in the next regularly scheduled issue of the appropriate journal. With these added award winners, the number of manuscripts selected for publication was 25% of the eligible total.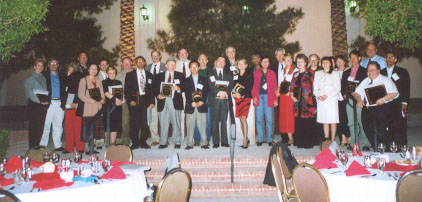 Distinguished Research Award Winners
Academy of Accounting and Financial Studies
Nonlinearities and Chaos in Bond Yield Movements
Vivek K. Pandey, The University of Texas at Tyler

Executive Options Schemes: Time for a Reckoning
Tyrone Carlin, Macquarie Graduate School of Management, Australia
Guy Ford, Macquarie Graduate School of Management, Australia

Risk, Return and Equilibrium in the Emerging Capital Market:
The Case for Jordan
Osamah Al-Khazali, American University of Sharjah, United Arab Emirates
Academy of Commercial Banking and Finance
A Cluster Analysis of the Financial Characteristics of Depository
Institution Merger Participants and the Resulting Wealth Effects
Stephen K. Lacewell, Murray State University
Larry R. White, Mississippi State University
Michael T. Young, Minnesota State University

Innovations in Bank Service Marketing or How to Market a Bank
Rob H. Kamery, Christian Brothers University
Sarah T. Pitts, Christian Brothers University

Academy of Economics and Economic Education
Personality, Gender and Risk: A Framing Analysis
Darrell F. Parker, Georgia Southern University
Martha C. Spears, Winthrop University

A Survey of U.S. Foreign Direct Investment Determinants in ASEAN-5 Countries
Balasundram Maniam, Sam Houston State University
Dorothy Mehrens, Sam Houston State University
James Bexley, Sam Houston University

Academy of Educational Leadership
Academic Ethical Decisions:
Testing the Global Nature of Locus of Control in Asian Cultures
Evelyn C. Hume, University of Texas-Pan American
Aileen Smith, Stephen F. Austin State University
Alan B. Davis, City University of Hong Kong
Academy of Entrepreneurship
Understanding the Financial Educational Needs of Entrepreneurs:
A Survey of Entrepreneurs and Financial Advisors
Robin Anderson, University of Portland
Brooke R. Envick, St. Mary's University of Texas
Greg Roth, University of Portland

Determinants of Trust Between Minority Suppliers and
Governmental Purchasing Managers
Jenny J. Swearingen, Thomas University
Academy of Free Enterprise Education
A National Survey of the State of SIFE Programs:
Implications for Students, Walton Fellows and Academic Institutions
Richard Burroughs, Barry University
Inge Nickerson, Barry University
Academy of Information and Management Sciences
Creating a Virtual Meeting System (VMS) for Public Agency Employees:
A Field Study of the Illinois Division of Oral Health
Ojoung Kwon, California State University-Fresno
Donna Dufner, University of Nebraska at Omaha
Maria Kwon, Southern Illinois University

A Review of the Interrelationship among Management,
Information Technology, and In-House End-User Empirical Propositions
Khaled Alshare, Emporia State University

Incorporating Decision Analysis into Solutions to
Integer Resource Allocation Problems
Robert F. Cope, III, Southeastern Louisiana University
Daniel G. Hotard, Southeastern Louisiana University
Rachelle F. Cope, Southeastern Louisiana University
Academy of Managerial Communications
Business Communication Instructors, AACSB College of Business Deans
and Human Resource Managers' Perception of Business Ethics
Donald English, Texas A&M University, Commerce
Edgar Manton, Texas A&M University, Commerce
Janet Walker, Texas A&M University, Commerce

Utilization of Open Communication Systems in the Managerial Decision Making Process:
Decision Making Transparency in a Large Public Agency
Jerry D. Estenson, California State University, Sacramento
Academy of Marketing Studies
A Comparative Study of Two Approaches to Modeling Consumer Preferences
Catherine T. Atwong, California State University, Fullerton

Family Durable Goods Decision Making Behavior:
Implications for Marketing Strategy
JoAnne S. Hopper, Western Carolina University

Advertising, Firm Size and Profitability in the Service Sector
Christie H. Amato, University of North Carolina-Charlotte
Louis H. Amato, University of North Carolina-Charlotte
Philip D. Irish, University of North Carolina-Charlotte

The New Paradigm of Direct Marketing Research:
Not the Old or the New, but a Merging of the Two
Richard A. Hamilton, University of Missouri-Kansas City
Academy for Studies in Business Law
Employment Discrimination Litigation and the Value of the Firm
Laurence E. Blose, Grand Valley State University
Gerald E. Calvasina, Southern Utah University

Legal Issues in a Dotcom Copycat Case
Jerry Wegman, University of Idaho

Academy for Studies in International Business
Recent Evidence of Foreign Direct Investment in Thailand
Tantatape Brahmasrene, Purdue University North Central
Komain Jiranyakul, National Institute of Development Administration, Thailand

Speculative Returns in the Neuer Market
Anne Macy, West Texas A&M University
Neil Terry, West Texas A&M University
Academy of Strategic and Organizational Leadership
Controlling Delay through Extension Fees
Steven V. Campbell, University of Idaho
Askar H. Choudhury, Illinois State University
Douglas J. McGinty, U.S. Department of Commerce

The Role of Strategic Genetics for Strategic Choice
Claus Nygaard, Copenhagen Business School

Mammography Screening among Women Ages 40 to 74 in the United States
Fevzi Akinci, King's College
Bernard J. Healey, King's College

International Academy for Case Studies
Good Heart General Hospital:
Sexual Harassment and the Community
Sherry Robinson, Penn State York

Cobweb.com End-Game Strategy for an Internet Company
Diane Lockwood, Seattle University
Keith Kowalczik, Seattle University
Derik Hickling, Seattle University

St. Louis Chemical: The Startup
David A. Kunz, Southeast Missouri State University

Rocky Mountain Drywall Case
Hugh Grove, University of Denver
Tom Cook, University of Denver
Troy Schroeder, Rocky Mountain Drywall, Inc.

Financing Growth: Can You Afford to Grow?
Suzanne M. Erickson, Seattle University
Susan G. Weihrich, Seattle University

Honorable Mention Research Awards
Academy of Accounting and Financial Studies
Earnings Management Using Pension Rate Estimates and the Timing of Adoption of SFAS 87
Marianne L. James, California State University, Los Angeles

A New Stock Option Plan and Its Valuation
Anthony Yanxiang Gu, State University of New York, Geneseo

An Examination of Differences between Financial Information
Provided in IRS Form 990 and Audited Financial Statements of
U.S. Private Colleges and Universities
Mary Fischer, University of Texas at Tyler
Teresa Gordon, University of Idaho
Marla Kraut, University of Idaho

The UK Investor and International Diversification
Michael E. Hanna, University of Houston-Clear Lake
Joseph P. McCormack, University of Houston-Clear Lake
Grady Perdue, University of Houston-Clear Lake

Earnings Response to Auditor Switches Using a Multi-Tiered Auditor Classification
Ronald A. Stunda, Birmingham Southern College
David H. Sinason, Northern Illinois University
Academy of Commercial Banking and Finance
Application of Gordon's Constant-Growth Dividend Valuation Model to
Estimating Retirement Funding Requirements
Robert E. Pritchard, Rowan University
Gregory C. Potter, Rowan University

The Applications of the Fibonacci Sequence and Elliott Wave Theory in
Predicting the Security Price Movements: A Survey
Amitava Chatterjee, Texas Southern University
O. Felix Ayadi, Texas Southern University
Balasundram Maniam, Sam Houston State University
Academy of Educational Leadership
University Students and Credit Card Debt:
Use and Abuse and How to Manage Credit Debt
Sara Hart, Sam Houston State University
Ahmed Ramahi, Sam Houston State University

Professional Portfolios as a Marketing Tool:
Student Working Portfolios as an Application
Kyle Mattson, Weber State university
Linnea C. DelHoyo, Weber State University
Academy of Information and Management Sciences
Com+ vs. EJB Component-Based Application Servers for e-Business
Joseph Pudichery, Duquesne University
Academy of Marketing Studies
The Development and Validation of the Strategic Marketing Initiative Scale as a
Comprehensive Measurement Instrument for First-Mover Efforts
Larry P. Pleshko, United Arab Emirates University
Richard A. Heiens, University of South Carolina Aiken
Leanne C. McGrath, University of South Carolina Aiken

Increasing Response Rate in Industrial Mail Surveys:
The Effect of Respondent Involvement in Sweepstakes Incentive
Cue D. Kim, Drake Beam Morin Korea, Inc.
Shirish Dant, The Gallup Organization
C. Christopher Lee, Central Washington University
Yun-Oh Whang, University of Central Florida

Overmarketing
Gary J. Brunswick, Northern Michigan University
Academy of Strategic and Organizational Leadership
Maximizing Organizational Performance vs. Minimizing Organizational Liability:
An Examination of Progressive and Defensive Human Resource Management Practices
Elyssa Blanton Schultz, Loyola University at New Orleans
Rusty Juban, Southeastern Louisiana University
Randy Settoon, Southeastern Louisiana University
International Academy for Case Studies
Trials and Tribulations of a Failing Business:
A Case Study of a Family-Owned Farm Supply Company
Inder P. Nijhawan, Fayetteville State University
Assad Tavakoli, Fayetteville State University
Sajata Strong, Fayetteville State University
Mecedes Jakola, Fayetteville State University

S&S Group, Inc.: An Ethics Case
Marc I. Lebow, Christopher Newport University
Michael McLain, Hampton University