Allied Academies News Number 7 - Fall 2000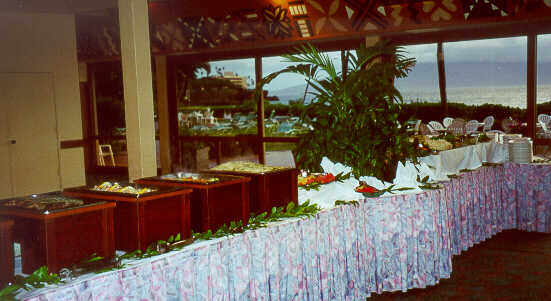 The Maui conference was a great success! We are pleased to report that this conference featured more than 225 authors representing 10 different nations, and more than half of the states within the United States. This was the ninth meeting of the Allied Academies. As you may know, the organization is a not for profit corporation and is not sponsored by any university or organization. We are dependent upon conference registration fees, membership fees, and contributions from interested and supportive groups. We would like to extend our heartfelt appreciation to all who participated. It is the authors and the conference participants who make the Allied Academies successful and who support our efforts to achieve our mission.
The new Internet Division also proved to be a success, with more than twenty participants (many of whom won awards). We also had a few people submit Power Point presentations. We will be offering Internet Division participants the option of having video taped presentations or Power Point presentations broadcasted on our web site for the next conference as well.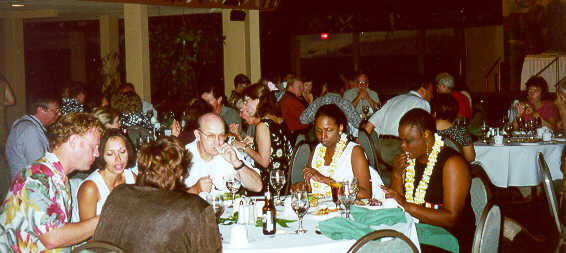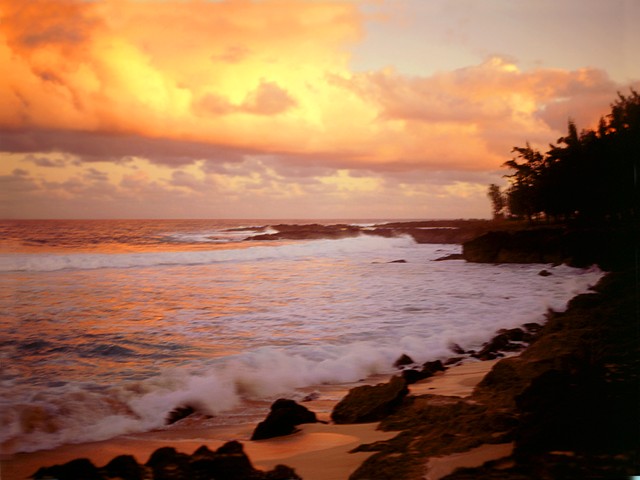 Copyright Hawaiian Sunsets Screen Saver
Don't forget to check our web site for announcements and other pertinent information. We have attempted to further streamline our submission procedures. Note, too, the upcoming International Conference in Nashville, in April 2001. We are still in the process of choosing a hotel site for the Fall 2001 conference, but we will probably be back in Las Vegas.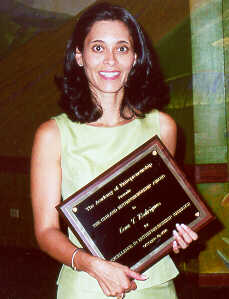 The second award given by the Academy of Educational Leadership to an individual forINNOVATIVE AND CREATIVE TEACHING also went to two recipients this year. Dr. Marla Kraut of the University of Idaho and Dr. C. Christopher Lee of Central Washington University both received plaques. The criteria for recognition include the exercise of creative or innovative teaching practices; and, recognized stature as an outstanding instructor.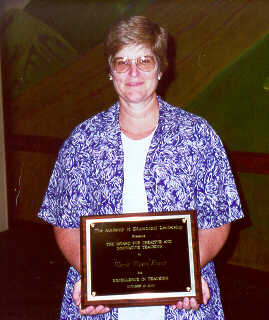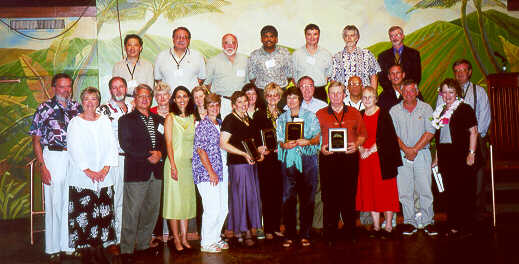 Winners of Distinguished Research Awards received engraved plaques in recognition for their high quality research. These manuscripts will be published in the appropriate journals. There is a 25% acceptance rate for these journals and the winners are to be congratulated for their outstanding contributions to their fields. We appreciate the support you have given us in this endeavor. We also appreciate your patience and understanding as we attempt to serve your needs. Thank you for considering the Allied Academies in your academic plans. The winners in the various areas are indicated below:
Distinguished Research Award Winners
Academy of Accounting and Financial Studies
CAPM Works in Singapore
Johnny Quek Teo Hoe, University of Singapore
Nuances of Chaos in Foreign Exchange Markets
Vivek K. Pandey, The University of Texas at Tyler
Theodor Kohers, Mississippi State University
Gerald Kohers, Sam Houston State University
An Examination of the Diversification Motive of Conglomerate Mergers
Niazur Rahim, Christopher Newport University
A. J. Ananaba, Atlanta Metropolitan College
The Effects of Management Changes on Earnings Forecasts
Ronald A. Stunda, Birmingham Southern College
New Reporting Guidelines SFAS No. 124: Compliance by Private U.S. Colleges and Universities
Mary Fischer, University of Texas at Tyler
Teresa Gordon, University of Idaho
Marla Kraut, University of Idaho
David Malone, Texas Tech University
Inequities of Social Security: Leveling Returns among Ethnic-Sexual Groups
David Letourneau, Winthrop University
Academy of Economics and Economic Education
Did America Ever Have a Period of Laissez-faire Capitalism?
Dave Thiessen, Lewis-Clark State College
Financial and Political Crisis of Malaysia
Hadley Leavell, Sam Houston State University
Leroy Ashorn, Sam Houston State University
The Texas Lottery: A Pedagogical Example Integrating Concepts of Income Taxation, Time Value of Money and IRR
Michael R. Hanna, University of Houston-Clear Lake
Joseph P. McCormack, University of Houston-Clear Lake
Grady Perdue, University of Houston-Clear Lake
Academy of Educational Leadership
Faculty Morale: A Qualitative Study of Influences and Recommendations
Dianne Phillips-Miller, University of Idaho
Brian L. Pitcher, University of Idaho
Philip D. Olson, University of Idaho
An Evaluation of Teaching Strategies for an Information Systems Foundations Course
Jean-Paul Van Belle, University of Cape Town
Hollywood: Fictitious and Factual Case Models for Teaching Situational Reality
William B. Morgan, Felician College
Jay Bender, Southampton College
Using a Self-Efficiency Scale for Training and Outcomes Assessment: A Tax Research Example
Dennis R. Schmidt, University of Northern Iowa
Rex A. Karsten, University of Northern Iowa
The Development of Management Practices and Management Education Across Time:
The Case of the People's Republic of China
P.C. Smith, University of Tulsa
George S. Vozikis, University of Tulsa
David W. Pan, University of Tulsa
Technology by Immersion: Design of Auditor Liability Assignments Using Web-based Resources
Penelope Herickhoff, Minnesota State University, Mankato
Jane E. Baird, Minnesota State University, Mankato
Academy of Entrepreneurship
A New Measure of Entrepreneurial Decision Making Style
Judy Gray, Monash University
The Continuing Search for Relevance in Small Business and Entrepreneurship Research
David Schauer, University of Texas at El Paso
Frank Hoy, University of Texas at El Paso
Academy of Free Enterprise Education
Entrepreneurship Education for At-Risk Youth: A Partnership between Higher Education and Private Industry
Curtis L. DeBerg, California State University, Chico
Academy of Information and Management Sciences
Image Watermarking by Wavelet Decomposition
Chiou-Ting Hsu, National Tsing Hua University, Taiwan
Ja-Ling Wu, National Taiwan University
Applying the Technology Acceptance Model to the WWW
Richard A. Johnson, Southwest Missouri State University
Michael L. Hignite, Southwest Missouri State University
Online Trading: Problems and Challenges
Sanjay S. Mehta, Sam Houston State University
Mark R. Leipnik, Sam Houston State University
Academy of Managerial Communication
Doing Things with Words: Analyzing Conversations on Privacy Newsgroups
Chia-Ping Yu, National Sun Yet-sen University
Tsai-Hsin Chu, National Sun Yet-sen University
Academy of Marketing Studies
Marketing Concepts for Banking in the New Millennium
James B. Bexley, Sam Houston State University
Joe James, Sam Houston State University
Balasundram Maniam, Sam Houston State University
Academy of Strategic and Organizational Leadership
A Program for Leadership Development
Iain L. Densten, University of New South Wales
A Study of Performance Appraisal Systems Acceptance and Effectiveness in Multinational Companies (MNCs) in Malaysia
Amat Taap Manshor, Multimedia University

The Mass Customisation Paradigm: An Exploratory Study on the Influence of Environmental Conditions
Laetitia Radder, PE Technikon
Lynette Louw, University of Port Elizabeth
Academy of Studies in Business Law
Ethical Frameworks and Ethical Behavior: A Comparison of Business and non-Business Students
Larry R. Watts, Stephen F. Austin State University
William T. Jackson, University of Texas-Permian Basin
Thomas M. Box, Pittsburg State University
Moral Development and Justification in an Accounting Ethics Context
Aileen Smith, Stephen F. Austin State University
Violet Rogers, Stephen F. Austin State Univeristy
International Academy for Case Studies
The Rolling River Casino Case Study: An Analysis of Effective Management Internal Controls
John R. Mills, University of Nevada, Reno
Jannet Vreeland, University of Nevada, Reno
Laetrile Redux: The Debate Resumes
Edward J. Schoen, Rowan University
Joseph S. Falchek, King's College
A Case of Defamation or Legitimate Background Reference Checks?
Patricia A. Lapoint, McMurry University
Carrol R. Haggard, Fort Hays State University
Institute of Financial Case Research
Groceries Etc. Delivered.com
Harriet Stephenson, Seattle University
Diane Lockwood, Seattle University
Leo Simpson, Eastern Washington University
Venture One.com: A Venture Capital or Public Financing Case
William H. Brent, Howard University