Journal H-index : 4

Journal cite score : 1.67
Journal impact factor : 1.11
Average acceptance to publication time (5-7 days)
Average article processing time (30-45 days) Less than 5 volumes 30 days
8 - 9 volumes 40 days
10 and more volumes 45 days
About The Journal Open Access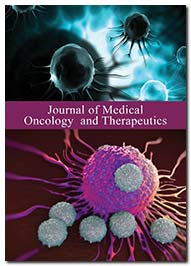 Oncology is a vast and well researched subject in medical world. Analysing the medical part of it is assumed to be pivotal in curing many cancer and related diseases. As per the definition, Medical oncology manages the utilization of systemic medications going for cancer cell executing and control. The branch of Medical Oncology in the majority of the research centres, hospitals, institutes has master advisors with enthusiasm for the administration of solid tumours and additionally paediatric cancers. The medicinal oncology group is involving specialists in the utilization of systemic treatment including chemotherapy, endocrine therapy, and additionally the most recent organic and focused on medications for solid tumours.
Medical Oncology and Therapeutics provides optimum platform where researchers from all over world can submit their work to it. Journal of Medical Oncology and Therapeutics is a famed international journal having an impeccable Reviewer and Editorial Board.
This multidisciplinary open access journal provides the chance to researches to disseminate the work in the form of original research article, review article, case reports, short communication etc.
Aim and Scope
Medical Oncology and Therapeutics conveys and aims the aftereffects of clinical and experimental examination in oncology and haematology, especially experimental therapeutics inside of the fields of immunotherapy and chemotherapy. It additionally gives cutting edge audits on clinical and experimental treatments. Subjects covered include incorporate immune biology, pathogenesis, and treatment of malignant tumours.
Journal of Medical Oncology and Therapeutics is a scientific open access journal that deals and describes the developmental activities conducted in the vast field of Oncological research. This journal encompasses the study related to Breast Cancer, Cell Line, Prostate Cancer, Tumour Cells, Genetics, Radiation Therapy, Lung Cancer, Prognostic Factor, Colorectal Cancer, Non-Small Cell Lung Cancer, Ovarian Cancer, Cell Cycle, Gene Expression, Cell Proliferation, Breast Carcinoma, Squamous Cell Carcinoma, Transcription Factor, case-control study Cell Death, Monoclonal Antibody, Hepatocellular Carcinoma disciplines.
Submission of important articles containing advanced research output aiding in forwarding the subject are most welcome. The wide scope of the journal will aid in contributing a great measure of scientific information related to the advances in towards better healthcare.
The Journal is using Editor Manager System for easy online tracking and managing of the manuscript processing. Each article undergoes a peer review process under the aegis of an assigned Editor. To be acceptable for publication, an article should be positively considered by two individual reviewers followed by the Editor's consent.
You may send the article online at https://www.scholarscentral.org/submissions/medical-oncology-therapeutics.html or via mail at [email protected] or [email protected]
H-index
Articles published in Journal of Medical Oncology and Therapeutics have been cited by esteemed scholars and scientists all around the world. Journal of Medical Oncology and Therapeutics has got H-index 4 , which means every article in Journal of Medical Oncology and Therapeutics has got 4 average citations.
Just Published Articles
Relevant Topics