Average acceptance to publication time (5-7 days)
Average article processing time (30-45 days) Less than 5 volumes 30 days
8 - 9 volumes 40 days
10 and more volumes 45 days
About The Journal Open Access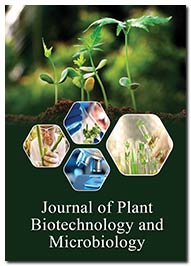 Journal of Plant Biotechnology and Microbiology is an open access, peer reviewed journal that centers a wide assortment of research areas covering but not restricted to different biotechnology applications in plant science, plant pathology and horticulture science to improve breeding, efficiency, production and reproducibility of the plants. This journal encourages scholars interested in plant analysis to share, advance and contribute to current knowledge, thereby leading to innovative progression of the field.
Plant Biotechnology refers to scientific techniques that are used to develop useful and beneficial plant derivatives and products. The journal convers all plant biotechnologies that assist in developing new varieties and traits include genetics and genomics, marker-assisted selection (MAS), and transgenic o genetically engineered crops. Plant Microbiology is a branch of microbiology dealing with plant-associated microbes and plant and animal diseases. It also deals with the microbiology of soil fertility, such as microbial degradation of organic matter and soil nutrient transformations.
New developments in methodology and techniques are important resources for the research community. The journal publishes scientific work on various topics like plant tissue culture, plant molecular breeding, plant microbe interactions, plant stress biology, plant pathology, plant biochemistry, secondary metabolite production, applied microbiology, microbial diversity, microbial genetics , host-microbe interaction, microbial pathogenesis, food microbiology, signal transduction, bioremediation, bioactive compounds, fermentation technology, bioprocess engineering.
The journal welcomes original research, review articles, opinions, mini reviews, short communications, commentaries, perspectives, and letters. All the published articles are openly accessible to the readers. Open access publication enables wider circulation of the scholarly information, integration and advancement of the field.

The editorial board ensures a quick peer review with the use of Editorial Tracking System. It is an online manuscript submission, review and tracking system. Authors may submit manuscripts and track their progress through the system, hopefully to publication. Reviewers can download manuscripts and submit their opinions to the editor. Editors can manage the whole submission/review/revise/publication process.
Every submitted article is subjected to a preliminary quality control check on the manuscript formatting, presentation language and scope by the editorial office, followed by external peer review. The journal conducts single-blind peer-review process where our curated subject expert provides comments, suggestions and feedback on the article quality. The article turnaround time from the time of submission to publication is 30-45 days. The peer-review accepted articles are published within 7 days in both HTML and PDF formats.
Authors can submit your manuscript at online portal at https://www.scholarscentral.org/submissions/plant-biotechnology-microbiology.html or by sending as an e-mail attachment to the Editorial Office to [email protected] and/or [email protected]
Plant biotechnologists with significant contribution to the field are welcomed to join the journal Editorial/Review board by sending their CV, brief biograph and photograph at the above mentioned e-mail ID.
Fast Editorial Execution and Review Process (FEE-Review Process)
Journal of Plant Biotechnology and Microbiology is participating in the Fast Editorial Execution and Review Process (FEE-Review Process) with an additional prepayment of $99 apart from the regular article processing fee. Fast Editorial Execution and Review Process is a special service for the article that enables it to get a faster response in the pre-review stage from the handling editor as well as a review from the reviewer. An author can get a faster response of pre-review maximum in 3 days since submission, and a review process by the reviewer maximum in 5 days, followed by revision/publication in 2 days. If the article gets notified for revision by the handling editor, then it will take another 5 days for external review by the previous reviewer or alternative reviewer.
Acceptance of manuscripts is driven entirely by handling editorial team considerations and independent peer-review, ensuring the highest standards are maintained no matter the route to regular peer-reviewed publication or a fast editorial review process. The handling editor and the article contributor are responsible for adhering to scientific standards. The article FEE-Review process of $99 will not be refunded even if the article is rejected or withdrawn for publication.
The corresponding author or institution/organization is responsible for making the manuscript FEE-Review Process payment. The additional FEE-Review Process payment covers the fast review processing and quick editorial decisions, and regular article publication covers the preparation in various formats for online publication, securing full-text inclusion in a number of permanent archives like HTML, XML, and PDF, and feeding to different indexing agencies.
Just Published Articles View More
Relevant Topics