Average acceptance to publication time (5-7 days)
Average article processing time (30-45 days) Less than 5 volumes 30 days
8 - 9 volumes 40 days
10 and more volumes 45 days
About The Journal Open Access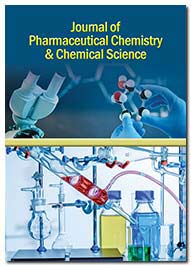 Journal of Pharmaceutical Chemistry & Chemical Science is an international, open access, peer-reviewed journal publishing original research & review articles in all the related fields of Pharmaceutical Chemistry and Chemical Sciences. The journal provides a comprehensive overview of the fundamental and applied aspects of pharmaceutical and chemical sciences.
Journal of Pharmaceutical Chemistry & Chemical Science provides a new platform for the researchers, scientists, scholars, students in this field to publish their research work and update the latest research information to the scientific community. This journal publishes Original research, reviews, case reports from eminent researchers and scholars across the world.
Aims and Scope
Journal of Pharmaceutical Chemistry and Chemical Science with peer reviewed aims to publish high quality, diverse article as Research, Review, Mini Review, Rapid Communications, Perspectives, Editorials, and Letters to the editor. The Objective of the journal is to provide a Scientific communication to discuss the advanced research in the field of Pharmaceutical chemistry and Chemical sciences.
Journal of Pharmaceutical Chemistry and Chemical Science is an Open access Journal accepts articles from across the disciplines including but not limited to Pharmaceutical Technology, Pharmacognosy, Pharmaceutics, Biopharmaceutics, Pharmacokinetics, Molecular modelling, Pharmacology, Pharmaceutical Analysis, Clinical and Hospital Pharmacy, Drug design, Organic synthesis, Medicinal Chemistry, Pharmacoeconomics, etc.
All the Submitted articles are subjected to peer-review process prior to its publication to maintain the quality and the significance of the journal. The published articles are made freely and permanently accessible online immediately upon publication. This journal is using easy Online tracking and managing of the advanced manuscript processing.
Authors may Submit manuscripts at Online Manuscript Submission System or send as an e-mail attachment to [email protected]
The journal is interested in expanding the Editorial Board and the review board. Interested individuals can submit their cv to [email protected] or you can reach us on Whats app through +447482874092.
Just Published Articles View More
Relevant Topics