Average acceptance to publication time (5-7 days)
Average article processing time (30-45 days) Less than 5 volumes 30 days
8 - 9 volumes 40 days
10 and more volumes 45 days
About The Journal Open Access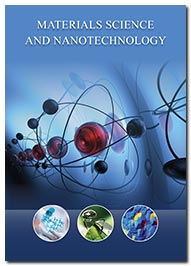 Materials Science and Nanotechnology is a scientific open access journal dedicated to publishing the latest advancements in Materials Science and Nanotechnology. Special focus is placed on research pertaining to Molecular Nanotechnology, Molecular Engineering, Quantum Nanoscience, Nanomedicine, Nanoelectronics, Nanomaterials, Bio Nanotechnology, Nano Toxicology, Green Nanotechnology, Forensic Engineering, Applied Engineering, Polymer Science, Biomaterials, Semi-conductors and Metallurgy.

In addition to research articles, the Journal also publishes informative Commentaries, Reviews, and Perspectives. The team at "Materials Science and Nanotechnology" takes immense pride in providing a courteous and efficient publishing process. "Materials Science and Nanotechnology" invites authors to share their valuable opinions and findings in the field.
Open access feature is an excellent choice as it boosts the visibility of a publication. It plays a major role in exposing the peer-reviewed publications by making them openly available at no charge to researchers all over the world. The average processing time from article submission until final publication is 30-45 days. The Journal has a dedicated online submission and tracking system that allows authors to keep track of the status of their manuscript and can follow its progress.
Authors can submit their manuscripts electronically at any time and from any part of the world to our online manuscript submission system www.scholarscentral.org/submissions/materials-science-nanotechnology.html
If there is any difficulty with online submission system, alternatively manuscripts are accepted via email to editorial office at [email protected] or [email protected]
Just Published Articles View More
Relevant Topics