Average acceptance to publication time (5-7 days)
Average article processing time (30-45 days) Less than 5 volumes 30 days
8 - 9 volumes 40 days
10 and more volumes 45 days
About The Journal Open Access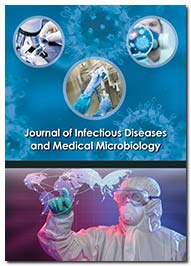 Journal of Infectious Diseases and Medical Microbiology is an open access scholarly publication that publishes peer reviewed articles based on technical and applicatory aspects of medical microbiology and immunology for the development of novel medical drugs and tools for the timely diagnosis and treatment of infectious diseases.

The scope of the Journal of Infectious Diseases and Medical Microbiology includes the basic principles of microbiology which has specifically been adapted for the identification and study of pathogenic microbes that are known to cause infectious Diseases. The journal also publishes research findings that expedite the process of development of novel antibiotics and microbiological tools that facilitate the elucidation of structure and life cycle of microbes.
The Journal of Infectious Diseases and Medical Microbiology prioritizes the worldwide dissemination of novel findings related to hitherto unexplored aspects of pathogenesis of microbial diseases; diagnosis and treatment of bacterial diseases and viral infections. The journal accepts manuscripts in the form of research articles, review articles, commentary, case report, short communication, opinion article, etc. The journal tests the fidelity of each submitted article by subjecting it through a rigorous single blind peer review process. Approval of two independent reviewers and the editor-in-chief of the journal are indispensable for the acceptance and publication of an article.
You may submit manuscripts through online PORTAL or as an E-mail attachment to [email protected] and/ or [email protected]
Individuals interested in becoming members of the Editorial Review Board should contact by below email.
Just Published Articles View More
Relevant Topics